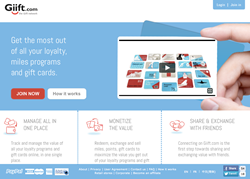 "Giift.com was designed to digitalize any type of loyalty program or gift card in one single place, monetize their value and redeem them for best offers," said Laurent Xatart, COO and co-founder of Giift.com
New York, New York (PRWEB) November 12, 2013
Giift.com released its latest version this month now making it the only site in which consumers can load, digitalize, manage, redeem, exchange, monetize and share gift cards and loyalty points all in one place. Giift.com, founded in 2012, operates the largest loyalty and gift card program with over 1,200 loyalty and card programs, in more than 50 countries. The company has offices in Singapore, Europe, USA and most recently China and works with the most famous retail stores.
Giift.com was designed to digitalize any type of loyalty program, gift card or any other virtual currency as well as answer three simple questions for consumers: what program and cards they have, how much they are worth, and what options they have for redemption. All loyalty and gift card programs are different: some are plastic cards, some are electronic, points and cards have different expiration dates with different rules for redemption, and are accessible through different login accounts. Today, consumers are not taking full advantage of their value.
"With Giift.com, no more prepaid or gift cards will remain in your wallet, no more confusing emails from hotels and airlines, and no more points or memberships impossible to redeem, everything is digitalized in one place and ready to be used to its full potential," said Laurent Xatart, COO and co-founder of Giift.com.
It is a no-charge membership website that provides remaining balances real time, allows consumers to exchange points and cards, and redeem them for best offers. An innovative idea, that is simple to use.
In addition, Giift.com is also helping retailers connect and engage their consumers through the platform, be more efficient, leverage their social networks, and capture business intelligence needed to survive in this competitive market. If retail stores don't have a program in place to issue electronic gift cards or loyalty program, Giift.com will even implement the full program for them. It is a well-designed online platform that is easy for consumers to use with a back office streamlined for retailers. "Giift.com is a very attractive solution for retail brands because they use the platform as an extension of their marketing department and can better connect and engage with their consumers to improve loyalty and customer acquisition," said Laurent Xatart.
With the goal to increase the benefits of all loyalty and card programs, Giift.com is changing the landscape of how loyalty programs operate and are utilized, to ultimately benefit both users and businesses around the world.