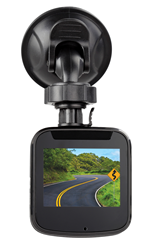 A GiiNii Dash Cam in the car is like driving with your own personal eye witness
San Jose, CA (PRWEB) May 05, 2015
The GD-250 Dash Cam is on display in the photo department and available on Walmart.com http://www.walmart.com/ip/GIINII-TECH-CORP-Giinii-GD-250/39877500.
The GD-250 is a compact dash cam with a 2" LCD screen, a wide 120-degree viewing angle providing a panoramic view of the road through the windshield in crystal clear detail. The GiiNii GD-250 Dash Cam records in Full HD Video 1080p for best video quality and low light situations. One of the most important features of the GiiNii Dash Cam is the G-Sensor as it automatically protects the video file when a collision is detected. The GiiNii GD-250 Dash Cam uses Continuous Loop Recording to maximize the micro SD card space by overwriting the oldest video once the card is full, unless the video file has been protected. To record the fast-action and get the best picture quality, a class 6 or better micro SD card is required.
Audio Recording is another option offered with the GD-250 to capture the activities inside the car as well. Installation is easy; just mount the dash cam with the included suction cup to the windshield, plug in to the cigarette lighter power adapter, and it's ready to hit the road. Drivers never know what they will see when driving down the road, and with a GiiNii Dash Cam, they won't miss a thing. Plus, drivers can share the videos with their friends and family.
"We are excited about the expanded availability of the GiiNii GD-250 Dash Cam and our continued retail partnership with Walmart," said John Huang, CEO of GiiNii Tech Corporation. "Dash Cams are new to the US Market and provides drivers added security and the opportunity to capture the unexpected everyday as they drive down the road. The GiiNii GD-250 Dash cam records excellent video, is easy to use, and provide you with your own personal eye witness."
About GiiNii Tech Corporation:
GiiNii Tech is the largest global provider of digital photo frames. GiiNii recognized the growth opportunity for vehicle safety products and is expanding to include a line of full-featured dash cams at value to the consumer. Please visit GiiNii Tech at http://giinii.com/DashCams_videos.html New Innovations – Watch Now and learn more about the GiiNii Dash Cams. Like Us on Facebook http://www.facebook.com/GiiNiiTech.