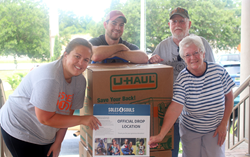 The turnout from the community was heartwarming and overwhelming, as the shoe donations I and the church received were more than expected.
Daphne, AL (PRWEB) August 12, 2016
RE/MAX By The Bay Realtor® Ginny Stopa is proud to announce she recently shipped 333 pairs of shoes to Soles4Souls following a shoe drive and a large donation from Government Street Baptist Church in Mobile, AL, which spearheaded its own Soles4Souls drive. "The turnout from the community was heartwarming and overwhelming, as the shoe donations I and the church received were more than expected," said Stopa. "I am honored to live in a community where so many people are passionate about helping the less fortunate."
Due to the generosity of the community and Government Street Baptist Church, Stopa was able to ship four large boxes of shoes to Soles4Souls, whose mission is to eradicate extreme poverty by 2050. Children every day are prevented from attending school and adults are unable to work as walking becomes unbearable, which perpetuates the cycle of poverty. However, Soles4Souls aims to wear out poverty one pair of donated shoes at a time. A new pair of shoes can provide relief in many developing nations where walking is the primary mode of transportation, and help bridge the economic gap in the United States and Canada.
"Soles4Souls has collected and distributed more than 26 million pairs of shoes to those in need in 127 countries around the world and all 50 states in the U.S., with the help of altruistic and proactive people such as Aggie Little and all the children at Government Street Baptist Church who were the force behind the successful shoe drive," said Stopa.
About Soles4Souls
Soles4Souls advances its anti-poverty mission by collecting new and used shoes and clothes from individuals, schools, faith-based institutions, civic organizations and corporate partners, then distributing those shoes and clothes both via direct donations to people in need and by provisioning qualified micro-enterprise programs designed to create jobs in poor and disadvantaged communities. Based in Nashville, TN, Soles4Souls is committed to the highest standards of operating and governance and holds a four-star rating with Charity Navigator.
About Ginny Stopa, RE/MAX By The Bay
Ginny Stopa, a member of the National, State, and Local Association of REALTORS®, has been with RE/MAX By The Bay for fifteen years and is dedicated to helping her clients locate the home of their dreams in the Daphne, Spanish Fort and Fairhope areas. She specializes in investment properties, move-up buyers, listing marketing and is a member of the Institute of Luxury Home Marketing. For more information, please call (251) 621-2588, or visit http://www.ginnystopa.com. The office is located at 28810 US Highway 98, Suite C, Daphne, AL.
About the NALA™
The NALA offers small and medium-sized businesses effective ways to reach customers through new media. As a single-agency source, the NALA helps businesses flourish in their local community. The NALA's mission is to promote a business' relevant and newsworthy events and achievements, both online and through traditional media. For media inquiries, please call 805.650.6121, ext. 361.