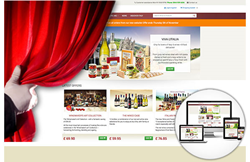 The new Giordano website makes it even easier to order authentic Italian wines online ...
Alba, Piedmont, Italy (PRWEB UK) 4 November 2015
The new Giordano Wines website features over 60 wines from right across Italy, including Piedmont in the north, Tuscany (the home of Chianti), the Abruzzo region overlooking the Adriatic and Apulia in the south with its award-winning wines Primitivo di Manduria and Salento Rosso.
Giordano also offer a selection of authentic Italian foods such as Extra Virgin Olive Oil, speciality pastas and even candied chestnuts in syrup. Plus, there's a wide range of wine and food hamper selections available.
Giordano's website provides useful information about the key Italian wine producing regions and their traditional recipes, plus a News area with regular updates and information on the many awards won by Giordano Wines.
Latest Wine Offers
Giordano are famed for their wine and food hampers and they currently have an Italian Christmas wine offer available. 12 bottles of quality Italian wines (choice of mixed case or all reds/whites) plus six authentic foods plus a 12-piece dinner set for £59.95 including UK mainland delivery. That's a saving of over £70 on the normal selling price.
About Giordano Wines
Founded in 1900 by Ferdinando Giordano and with a vision to produce the finest wines, Giordano is now in it's fourth generation of the Giordano Family and has grown to a worldwide business of over €100M.
Giordano operates production facilities in Piedmont and Puglia, maintaining full control of the production process, from grape selection through to bottling and ageing. It's state-of-the-art distribution centre in Alba despatches over 26 million bottles of wine every year, serving more than 3 million clients in Italy, most of Europe and the USA.
As of January 2015, Giordano Wines became part of Italian Wine Brands.
The IWB Group is a point of reference for the production and distribution of wine.
IWB S.p.A. performs management functions for the companies in the Group and exercises direction and coordination, directly holding the controlling stakes in the principal companies in the Group: Giordano Vini S.p.A. and Provinco Italia S.p.A.
Italian Wine Market in the UK
Italy is the third most popular country of origin for still wines and accounts for over 16 million 12-bottle cases. (1)
Italy is the world's largest wine producer (2)
1: WSTA, London Wine Fair 2015
2: Harpers, Oct 2015