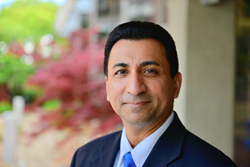 The status quo is not good enough. We must go further to achieve true, inclusive change.
ALBUQUERQUE, N.M. (PRWEB) April 18, 2019
Giovanni Alexander Haquani is a life-long New Mexican, and former State Rep. Candidate who is announcing his candidacy for the US Senate seat currently held by Sen. Tom Udall and has promised to run on a distinctly progressive platform with genuinely new ideas.
"This is one of the most important periods in history. The social contract is in shambles and people everywhere in New Mexico and across the country are suffering because someone else has taken too much without giving back to society." said Giovanni.
In 2016, Giovanni was the Democratic frontrunner for State Representative in House District 20 on the southeast side of Albuquerque. Running a grassroots campaign, Giovanni personally knocked on over 10,000 doors during the election, which resulted in his nearly taking the seat for the Democrats in the majority-Republican district.
"At the end of the day, people just want to feel confident that as a legislator, you will think about their family too, and thats why so many people from both sides voted for me." Said Giovanni, who ran on a platform of labor-friendly economic development, safety, and environmental protection.
In 2016, Giovanni was one of the most widely-supported candidates, gaining the endorsements of numerous environmental protection organizations, labor and education unions, and many public figures such as then Rep. Michelle Lujan Grisham, Rep. Ben Ray Lujan, NM Attorney General Hector Balderas, Senate Majority Leader Michale Sanchez, Land Commissioner Ray Powell, and the Bernalillo County Sheriff Manuel Gonzalez among others.
Prior to his 2016 campaign, Giovanni also ran for State Senate in 2012, and has consistently remained involved in public service throughout his life. Over his years in Albuquerque, Giovanni has raised a family, been a successful business owner, hosted a political television talk show, while still struggling in many of the same ways as other New Mexicans.
"The biggest problem with our political system is there are too many politicians and not enough public servants who have real skin in the game. I have felt the same pain as many other New Mexicans and I know I can make a difference in this state." said Giovanni, when asked why he felt he was the best person to lead NM in the Senate. When asked what his ultimate goal is Giovanni Replied "We have to take care of peoples' basic needs, ensure they have opportunities to succeed in society, and New Mexico must become a leader in showing the rest of the country how it's done."
In his bid for the seat left by Sen. Udall, Giovanni is running on a platform of policies that are distinctly progressive and innovative. He will be announcing his candidacy in-person in the coming days. Full details to be released on Giovanni2020.com
###