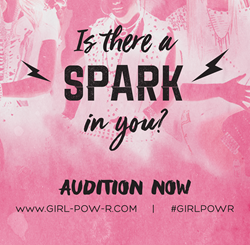 Let's support positive change for the world, and embrace the energy of our youth to help make this a better planet!
Toronto, Ontario, Canada (PRWEB) March 08, 2017
Canyon Entertainment Group announces the launch of auditions for Girl Pow-R, a new all-girl pop rock singing group for young women ages 11 to 14. In the theme of #BeBoldForChange for International Women's Day, March 8, 2017, this is an opportunity for the voices of young women in the pre-teen to early teen years to speak to their peers in a fresh, new voice.
Anyone can apply via a video audition process on the website at http://www.girl-pow-r.com
Too often, young people are influenced by the thoughts and life experiences of singers and musicians who are in their late teens and their 20's. Are these the right voices to be inspiring the youth of today? No.
"Girl Pow-R" is being formed as an energetic group of young girls who are setting out to inspire others to do their best. The girls in the band will represent different cultural backgrounds and embrace the elements of pop and rock to communicate the Girl Pow-R message. This Toronto-based group merges the issues today for young people with inspirational and energetic singing and dancing, to produce modern sounds in a unique way.
The group will take the audience on a unique journey as they perform at live shows in North America and around the world, singing new, original music of extraordinary power and musical invention. Girl Pow-R's original Canadian music will unite the talents of a diverse array of young people who are singers, dancers and musicians, in an unforgettable and unprecedented way.
Anyone can audition through the on-line video submission process on the website: http://www.girl-pow-r.com
Let your voices be heard in song, let your voices be heard in social media with #GIRLPOWR, and #BeBoldForChange in celebration of International Women's Day – we all have a voice, far and wide. Let's support positive change for the world, and embrace the energy of our youth to help make this a better planet!
GIRL POW-R ... new all-girl pop rock singing group
10 Festival Shows this summer in Greater Toronto Area, and recording new, original music and music videos. Canyon Entertainment Group is searching for female singers with spark! These young women should be 11 to 14 years old, all ethnicities, with their musical talents ranging from pop to rock.
We are looking for performers with great charisma, energy and personality. All singers must submit one song in their video submission. And, if you play an instrument, please feel free to play it as part of your video audition. Sing a song you are comfortable singing, which shows off your range and provides a sense of who you are.
Canyon Entertainment Group empowers people through music. We represent a roster of high-caliber artists who inspire their fans every day. By constantly learning from our talented array of singers, songwriters and producers, we strive to create music and live events that spur positive change. As Canyon Entertainment Group grows, we're looking for a diverse range of artists who share in our vision of motivating others with their music.