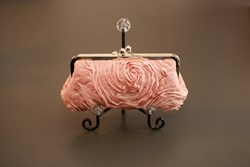 The fabrics I use to create my clutches are simply luxurious and a treat to work with; I call them 'eye candy clutches' for that very reason.
Chicago, Illinois (PRWEB) January 07, 2014
Girl by Aileen (http://www.girlbyaileen.etsy.com) will participate in an invitation-only luxury celebrity gift lounge hosted by GBK Productions in Honor of the 2014 Golden Globes Nominees and Presenters, where its Champagne/Nude Chiffon Clutch will be showcased on display and its Champagne/Ivory Chiffon Rosette Pouch will be gifted to celebrities stopping by The Artisan Group® exhibit. The Gift Lounge will take place January 10-11, 2014 at an exclusive location in Beverly Hills, California.
Girl by Aileen designer/founder Aileen Parks was asked by celebrity gifting organization The Artisan Group® to design a special display piece for exhibit, along with 100 individually packaged gifts for their sought after swag bag.
To fulfill the swag bag request, Aileen created the Champagne/Ivory Chiffon Rosette Pouch. This elegant pouch is handcrafted in a gorgeous chiffon fabric and is full of rich texture. For the display piece, Aileen elected to showcase her Champagne/Nude Chiffon Clutch, which is also constructed with a luxurious chiffon that is a feast for the eyes and irresistible to the touch.
Aileen says fabrics are her obsession and the start of the design process. She is inspired by color and texture and thinks nothing of purchasing a $90/yard textile if she is drawn to it and it will give her the look she's after.
"Once I fall in love with a fabric I can't put it down and must make a clutch as soon as possible," she laughed. "The Chiffon Clutch I used for my display piece is a case in point. The fabrics I use are simply luxurious and a treat to work with; I call them 'eye candy clutches' for that very reason. In addition to the gifted clutches, I especially love my Shabby Clutch in Nude Peach and my Rosette Cream Chiffon Sequin Clutch."
The Champagne/Nude Chiffon Clutch and the Champagne/Ivory Chiffon Rosette Pouch are available to special order at girlbyaileen.etsy.com. Prices range from $25.00 to $55.00.
Aileen says her typical customers are brides from their early 20s to their early 30s, looking for something useful, meaningful and beautiful to gift their bridesmaids. She also counts among her clientele, fashion forward women of all ages looking for couture evening clutches.
The designer is known for her personalized clutches, incorporating photos and messages. Aileen relates, "I was fortunate to be invited to my sister-in-law's wedding rehearsal party, where she gifted my clutches to her bridesmaids, Mom, Mother-in-Law and all the special women in her life. I saw tears throughout the room when the women opened the clutches and saw their own pictures with the bride; some from childhood, some from college and one of the mom holding the bride as a baby—they were clearly touched emotionally and it was one of the highs in my design career so far. This kind of response is why I love creating personalized designs."
Girl by Aileen products have been included in celebrity swag bags at GBK's Luxury Gift Lounges for the 2013 Cannes Film Festival and the 2013 Primetime Emmys and were included in a collaborative The Artisan Group gift bag in honor of 2013 Mother's Day that went to Hollywood moms including Claire Danes, Penelope Cruz, Jessica Simpson and Kim Kardashian, among many others. Girl by Aileen has also been presented for consideration of use to the wardrobe stylists for "True Blood," "Scandal" and "Hidden in the Woods."
To learn more about Girl by Aileen, contact Aileen Parks by email. Become a fan on Facebook (GirlByAileen) and follow the company on Twitter (@girlbyaileen). For press inquiries regarding The Artisan Group®, visit theartisangroup.org.
For more information about The Artisan Group, visit theartisangroup.org.
ABOUT GIRL BY AILEEN
Aileen Parks is the creator behind Girl by Aileen (http://www.girlbyaileen.etsy.com). She was born in the Bronx, New York and lived both there and in Puerto Rico, but has resided in Chicago since she was 14. She is a wife and the mother of 4 boys who after having worked in the telecommunications industry for over 20 years is now re-creating herself to pursue her dreams of being self-employed in the creative world. Aside from sewing, she loves making handmade gifts for her friends and family, who have been great supporters of her new endeavor. Aileen also enjoys traveling the world and the art of photography.
Girl by Aileen is a proud member of The Artisan Group®.