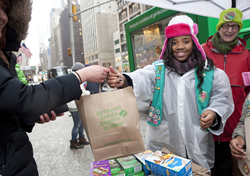 Follow your local Girl Scout council on Facebook and Twitter to keep up with the latest cookie news.
(PRWEB) February 18, 2015
Girl Scout troops in Ohio's four Girl Scout councils – Western Ohio, Ohio's Heartland, North East Ohio, and Black Diamond – will soon be selling delicious Girl Scout cookies at conveniently located cookie booths throughout Ohio. Booth sales will run in:
Ohio's Heartland – Feb. 13 – March 22;
Black Diamond – March 1 – April 12;
Western Ohio – March 6 – 29; and in
North East Ohio – March 13 – 29.
Cookie lovers can find nearby cookie booths by using the Official Girl Scout Cookie Finder. The free app helps iPhone and Android users find cookie booths by zip code or GPS, and offers other fun features. Download the app from the iTunes store or Android Marketplace.
The delicious flavors available this year include cookie classics: Thin Mints, Samoas, Tagalongs, Trefoils, Savannah Smiles, and Do-si-dos, PLUS an exciting new flavor -- Rah-Rah Raisins. The new gluten-free Toffee-tastic cookies will be available in select Girl Scout councils.
Girl Scouts will celebrate National Girl Scout Cookie Weekend (February 27 and 28), a high-energy weekend during which people everywhere cheer on the Girl Scout Cookie Program. The largest, most successful girl-led business in the world, the Girl Scout Cookie Program helps girls develop five essential life skills – goal setting, decision making, money management, people skills and business ethics.
Cookie lovers who purchase Girl Scout Cookies are not only getting a delicious treat, they are making an important investment in their communities. With every cookie purchase, all of the funds (after paying the baker) directly support local Girl Scout programs and resources. Follow your local Girl Scout council on Facebook and Twitter to keep up with the latest cookie news.
We're the Girl Scouts. We're 2.8 million strong—2.8 million girls and adults who believe every girl can change the world. It began over 100 years ago with one woman, Juliette Gordon "Daisy" Low, who believed in the power of every girl. Today, her vision of building girls of courage, confidence, and character who make the world a better place by helping them discover their inner strength, passions, and talents continues. And with programs from coast to coast and across oceans, there's a chance for every girl to do something amazing. To volunteer, reconnect, donate, or join, visit your local council's website.
Girl Scouts of Western Ohio — gswo.org
Girl Scouts of Ohio's Heartland — gsoh.org
Girl Scouts of North East Ohio — gsneo.org
Girl Scouts of Black Diamond — bdgsc.org