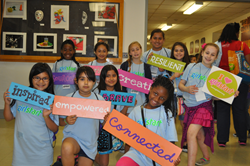 "We are honored to be awarded this grant from the Freescale Foundation," said Tamara Hudgins, Ph.D., executive director of Girlstart. "They understand what we are trying to accomplish in the Austin and surrounding communities and this grant is a testament
Austin, TX (PRWEB) October 28, 2014
Girlstart, the nonprofit that inspires girls' interest and engagement in science, technology, engineering and math (STEM), has received a grant from the Freescale Foundation. The grant will help support Girlstart's innovative, nationally recognized STEM education programs, such as Girlstart After School, and enable the organization to bring high-quality STEM education to thousands of fourth and fifth-grade girls in the Central Texas community.
"We are honored to be awarded this grant from the Freescale Foundation," said Tamara Hudgins, Ph.D., executive director of Girlstart. "They understand what we are trying to accomplish in the Austin and surrounding communities and this grant is a testament to our program's success in getting young women interested in STEM careers. Thanks to partnerships like the Freescale Foundation, we will be able to continue to expand our reach to thousands of girls throughout Central Texas."
The Foundation grant will help the organization empower young women in the areas of STEM, thereby encouraging them to pursue higher education in these important fields. Girlstart After School, one of the designated programs the contribution will help impact, enhances girls' STEM learning through fun, informal, hands-on and inquiry-based activities while exploring various subject areas such as aeronautical, aerospace, electrical, manufacturing, mechanical, petrochemical, and structural engineering.
Designed to reach girls who have limited or no access to high-quality extracurricular STEM education, Girlstart After School influenced nearly 1,000 girls in the fall of 2013 and anticipates impacting more than 1,200 girls throughout 2014, directly serving more girls than any other after school STEM program in the country.
In the past decade, growth in STEM jobs grew three times faster than growth in non-STEM jobs, according to the U.S. Department of Commerce. In addition, STEM occupations are projected to grow by 17 percent through 2018, compared to 9.8 percent growth for non-STEM occupations. However, women hold a disproportionately low share of STEM undergraduate degrees with only 24 percent of the STEM workforce being women.
"The Freescale Foundation is committed to STEM initiatives that inspire the diverse innovation leaders of tomorrow," said Karen Rapp, Freescale Foundation board member. "Freescale employees have been volunteering with Girlstart for many years and we recognize the importance of investing in STEM education."
Girlstart will be joined by Freescale employees and representatives of the Freescale Foundation during its Game Changers Annual Luncheon on Thursday, October 30, 2014. The luncheon is a special celebration honoring women who have made a significant impact locally or nationally utilizing their STEM education.
ABOUT GIRLSTART
Girlstart, founded in Austin in 1997, is the only community-based, informal STEM education nonprofit in the nation. Specifically dedicated to empowering and equipping girls in STEM, Girlstart provides year-round programming that promotes girls' early engagement and academic success in STEM, encourages girls' aspirations and persistence in STEM education and careers, and incubates a talented and diverse STEM workforce. Its innovative, nationally recognized programs include after-school and summer camps for students, professional development for teachers, and community and online STEM education outreach programs. Girlstart cultivates a culture where risk is rewarded, curiosity is encouraged, and creativity is expected. As a result, Girlstart girls are connected, brave, and resilient. Girlstart makes girls more successful, and inspires them to take on the world's greatest challenges.
ABOUT FREESCALE FOUNDATION 
Founded in 2013, the Freescale Foundation is a nonprofit, 501(c)(3) organization dedicated to promoting science, technology, engineering and math (STEM) education for K-12 students in the communities where Freescale employees live and work. Whether it is unveiling the fun science behind model rockets, the engineering that enables robots or the technology that drives automotive advancement, the Foundation aims to empower the innovators of tomorrow.
MEDIA CONTACTS:
Phil West, Orange Cone Agency, for Girlstart
512.769.3838, phil(dot)west(at)orangeconeagency(dot)com
Jacey Zuniga, Corporate Public Relations, Freescale
512.895.7398, jacey(dot)zuniga(at)freescale(dot)com