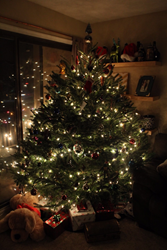 With thousands of Christmas tree related injuries every year, Giroud provides easy steps to avoid accidents and be safe.
Huntingdon Valley, PA (PRWEB) December 22, 2016
Giroud Tree and Lawn has just published a new blog article entitled "Christmas Tree Safety Tips." In it, Giroud Tree and Lawn details three keys steps to preventing many dangerous and costly avoidable accidents that may happen during the Holiday season. "The goal is all about keeping people safe," notes Lou Giroud, President and ISA Certified Arborist with Giroud Tree and Lawn. "This time of year is about joy and happiness. Taking proper precautions can only ensure the season stays merry and bright."
Those who have a Christmas tree in their home or apartment should take note of the following advice:
1. Secure your tree: After setting up a Christmas tree, it is always important to make sure it is secured in place. Checking the Christmas tree stand to ensure it is firmly in place is the best way to prevent it from falling unexpectedly. For added security, it is advised to tie the tree to a sturdy piece of furniture, a door hinge, or any other suitable anchor.
2. Water the tree regularly: Christmas trees undergo a lot of trauma from being cut down, and the tree will quickly succumb to its injuries if not properly cared for. To slow the process, the tree must be placed in its stand and watered immediately. By doing this, any tree owner can make sure their tree stays green for the holiday rather than going dry and turning brown.
3. Avoid all fire hazards: From lit candles to fireplaces, Giroud Tree and Lawn points out there are a lot of added fire hazards around the home during the Holidays. If a Christmas tree is near any one of these hazards, it can catch fire and cause damage to any home or property. This specific threat is amplified when the tree is dried out.
It is recommended that anyone with a Christmas tree follow these easy steps to avoid accidents. To learn more about Giroud Tree and Lawn's Christmas Tree Safety Tips, visit https://www.giroudtree.com/blog/christmas-tree-safety-tips.
About Giroud Tree and Lawn
Giroud Tree and Lawn specializes in tree service, tree removal and lawn care programs that make customers love doing business with the company since 1974. Serving Bucks, Montgomery and Philadelphia Counties, the company offers professional tree and lawn evaluation, tree pruning, tree removal, insect and disease control, fertilizing, stump removal and traditional and 100% organic lawn programs to keep lawns healthy and green . Giroud Arborists are certified by the International Society of Arboriculture (ISA) and have the knowledge and experience required to properly diagnose, treat and maintain trees and lawn health. The company is Accredited by the Better Business Bureau and has been awarded the Angie's List Super Service Award® every year since 2005. The "Giroud Treework for Charity" program donates free tree care services to parks, historical sites and other non-profit organizations located in the Company's service area. For more information, visit the company website at http://www.giroudtree.com or call 215-682-7704.