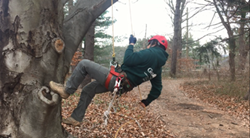 Giroud Tree and Lawn is so proud of the inaugural class of Climbing School Students. We're excited to start up our next class in August.
Huntingdon Valley, PA (PRWEB) January 04, 2017
Giroud Tree and Lawn's Tree Climbing School just came to an end, where two trainees learned what it takes to be a professional tree climber over a 5 day course led by Tree Care Manager, Doug Muth.
Open to anyone interested in learning how to climb, Giroud's Tree Climbing School covered all the basics and some technical aspects of professional tree climbing. Students Wes Abler from Ambler, Pennsylvania and Kory Gripman from Philadelphia successfully completed the program, and are joining Giroud as Tree Climbers after becoming the class's first two alumni.
"The trainee's did a remarkable job," says Giroud's Doug Muth. "They had a lot to learn in 5 days. But, what we're most proud of is how cautious they were to take the time to check their gear and stay safe throughout the whole week. We're all really impressed here."
Giroud has announced that the Tree Climbing School will be offered again in August. Those interested in joining the next class should contact Bernadette Nolen by calling 215-682-7704. In the 5 Day program, students will learn how to:
1. Properly tie knots
2. Set climbing and safety ropes
3. Maneuver around the tree
4. Setting Friction Savers
5. Set Advanced Rope Systems:
Anyone interested in learning more about the class can view Giroud's Climbing School Recap video featuring Kory, Wes, and Doug at https://www.youtube.com/watch?v=3UxgoUTtmvQ
About Giroud Tree and Lawn
Giroud Tree and Lawn specializes in tree service, tree removal and lawn care programs that make customers love doing business with the company since 1974. Serving Bucks, Montgomery and Philadelphia Counties, the company offers professional tree and lawn evaluation, tree pruning, tree removal, insect and disease control, fertilizing, stump removal and traditional and 100% organic lawn programs to keep lawns healthy and green. Giroud Arborists are certified by the International Society of Arboriculture (ISA) and have the knowledge and experience required to properly diagnose, treat and maintain trees and lawn health. The company is Accredited by the Better Business Bureau and has been awarded the Angie's List Super Service Award® every year since 2005. The "Giroud Treework for Charity" program donates free tree care services to parks, historical sites and other non-profit organizations located in the Company's service area. For more information, visit the company website at http://www.giroudtree.com or call 215-682-7704