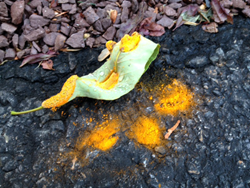 Ash trees infected with Ash Rust become stressed and often decline.
Philadelphia, PA (PRWEB) June 09, 2014
For the first time in several years, Ash Rust, a fungal disease, has erupted in Philadelphia. Plagued by other serious health problems including the fatal Emerald Ash Borer, Ash trees infected with Ash Rust suffer further stress and often decline. Giroud Tree and Lawn helps homeowners understand Ash Rust symptoms, the impact on trees and the best actions to maintain tree health.
"Ash Rust infects White, Green and sometimes Black Ash," explains Lou Giroud, President of Giroud Tree and Lawn and ISA Certified Arborist. "Symptoms start as small yellow to yellow-orange spots on leaves beginning in Mid-May. Wart like-swellings may also erupt and leaves often become distorted. By July, heavily infected Ash Trees may have significant leaf loss."
Preventative treatment is the best control but is not recommended since the disease only occurs sporadically. Giroud Tree and Lawn recommends the following tree service actions:
1. Schedule Ash Tree Inspection Now: Have an ISA Certified Arborist evaluate overall health of the tree and determine the best actions to protect tree health.
2. Reduce Tree Stress: In the fall, deep root fertilization, soil amendments, vitamins and nutrients can help to boost the tree's immune system.
3. Emerald Ash Borer Treatment: A fatal pest, treatment is the only way to protect Ash Trees from Emerald Ash Borer. If the Ash Tree is valuable to the landscape, Emerald Ash Borer treatment is critical.
4. Regular Monitoring: Because Ash Trees face formidable health issues, it is important to have professional inspections regularly to catch emerging issues early.
Like most Rust diseases, Ash Rust requires a second host. In this case, the fungal spores spend the winter on marsh and cord grass along the coast. An unusual confluence of conditions is required for the spores to travel as far as the Philadelphia area.
Recognizing that Ash trees are already plagued with a variety of serious health issues like Emerald Ash Borer, a professional tree inspection is the most important first step a homeowner can take to protect the health of Ash trees.
About Giroud Tree and Lawn
Giroud Tree and Lawn specializes in tree service, tree removal and lawn care programs that make customers love doing business with the company since 1974. Serving Bucks, Montgomery and Philadelphia Counties, the company offers professional tree and lawn evaluation, tree pruning, tree removal, insect and disease control, fertilizing, stump removal and traditional and 100% organic lawn programs to keep lawns healthy and green . Giroud Arborists are certified by the International Society of Arboriculture (ISA) and have the knowledge and experience required to diagnose, treat and maintain tree and lawn health. The company is accredited by the Better Business Bureau and has been awarded the Angie's List Super Service Award® every year since 2005. The "Giroud Treework for Charity" program donates free tree care services to parks, historical sites and other non-profit organizations located in the Company's service area. For more information, visit the company website at http://www.giroudtree.com or call 215-682-7704.