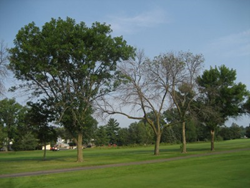 Treatment is the only way to control Emerald Ash Borer and save Ash Trees.
Philadelphia, PA (PRWEB) February 08, 2016
Treatment or tree removal is the choice many Philadelphia homeowners are facing because Ash trees are under attack from Emerald Ash Borer. A 100% fatal pest, without treatment all Ash Trees with Emerald Ash Borer die within 3-5 years. Giroud Tree and Lawn provides the best actions homeowners can take to protect Ash trees from this killer pest.
"Over the past 14 years, government and university researchers have extensively studied Emerald Ash Borer and how to control it," says Lou Giroud, ISA Certified Arborist and President of Giroud Tree and Lawn, a tree service company. "Research has proven that biannual trunk injections of TREE-age, Emamectin benzoate, provide the best control against Emerald Ash Borer."
Considered the most destructive forest pest ever seen in North America according to http://www.emeraldashborer.info/, Emerald Ash Borer kill Ash Trees when the larvae tunnel beneath the bark, stop food and water movement and starve the tree to death.
Emerald Ash Borer threatens all Ash trees in Bucks County, Montgomery County PA and parts of Philadelphia. Property owners need to take action now to protect any Ash trees that are a valuable part of the landscape.
Early detection is key to saving your Ash Trees. Take the following actions now:
1. Have an ISA Certified Arborist survey your property for Ash trees and evaluate overall health.
2. Determine the value of each Ash to your landscape:

Highest value Ash should be treated with Systemic Trunk injections every two years.
Ash of lesser value may warrant a lower cost treatment or be left untreated.
3. Begin treatment at the optimum time and continue treating each tree on the schedule prescribed by the type of treatment.
4. Remove deadwood and promote healthy growth with regular pruning in combination with treatment.
5. Untreated trees may require removal in the future.
The quality and effectiveness of Emerald Ash Borer treatments varies widely. It is imperative that the treatment be set up according to industry standards and applied at the correct dosage rate for the size of the tree. Additionally, homeowners need to ensure that the tree service company and technicians have the proper credentials and special training in Emerald Ash Borer applications
About Giroud Tree and Lawn
Giroud Tree and Lawn specializes in tree service, tree removal and lawn care programs that make customers love doing business with the company since 1974. Serving Bucks, Montgomery and Philadelphia Counties, the company offers professional tree and lawn evaluation, tree pruning, tree removal, insect and disease control, fertilizing, stump removal and traditional and 100% organic lawn programs to keep lawns healthy and green . Giroud Arborists are certified by the International Society of Arboriculture (ISA) and have the knowledge and experience required to properly diagnose, treat and maintain trees and lawn health. The company is Accredited by the Better Business Bureau and has been awarded the Angie's List Super Service Award® every year since 2005. The "Giroud Treework for Charity" program donates free tree care services to parks, historical sites and other non-profit organizations located in the Company's service area. For more information, visit the company website at https://www.giroudtree.com or call 215-682-7704.