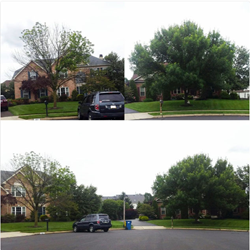 A dead Ash tree is not a simple tree removal. The brittle tree can break apart in unexpected ways and cause significant damage.
Huntingdon Valley, PA (PRWEB) June 19, 2017
Dead Ash trees are all too common as Emerald Ash Borers continue to spread across the Philadelphia region. Emerald Ash Borers are fast killers and leave behind dangerous trees that are likely to break apart or fall. Giroud Tree and Lawn explains why dead Ash trees pose a higher safety risk than other dead trees and require professional tree removal.
"Two realities make an Ash tree killed by Emerald Ash Borers especially dangerous," says Mike Chenail, ISA Certified Arborist with Giroud Tree and Lawn:
1. Moisture Loss: Emerald Ash Borers cut off the flow of water and nutrients through the tree. Additionally, the fatal pest creates thousands of exit wounds. Both conspire to dry out the tree and make it dry and brittle.
2. Weak Structure: The same straight, tight grain that makes Ash great for baseball bats and splitting firewood is also why its limbs and leaders easily split apart.
"Because of moisture loss and weak structure," explains Mike. "Homeowners should remove the dead Ash promptly especially if the tree is located near a home, driveway, play area, road or pedestrian walkway."
A dead Ash tree is not a simple tree removal. The brittle tree can break apart in unexpected ways and cause significant damage.
A professional tree service will evaluate the tree's condition and determine if a tree climber can safely work in the tree or if a crane and/or bucket truck is required. The longer the dead tree is left in the ground, the drier and more dangerous it will become making tree removal even more complicated and expensive.
"There is hope for Ash trees that are still in good health," adds Mike Chenail. "Research has proven that biannual trunk injections of TREE-age, Emamectin benzoate, protect Ash against Emerald Ash Borer. The tree must have at least two-thirds of its crown and be healthy enough to absorb the treatment."
The following steps help to ensure Ash trees are properly evaluated and treated or removed:

Early Detection: Have an ISA Certified Arborist evaluate the Ash trees and recommend the best action.
Treatment: If the Ash trees are healthy enough to save, a systemic trunk injection every two years protects Ash from Emerald Ash Borers.
Regular Pruning: Remove deadwood and prune to promote healthy growth in combination with treatment.
Tree Removal: When unprotected Ash trees become unsafe or die, prompt removal is required.
To help homeowners, who don't know how to identify an Ash tree, the Colorado State Forest Service and Colorado State University Extension have created a free mobile app. It asks questions about the characteristics of the tree and then explains the steps required to prevent infestation.
About Giroud Tree and Lawn
Giroud Tree and Lawn specializes in tree service, tree removal and lawn care programs that make customers love doing business with the company since 1974. Serving Bucks, Montgomery and Philadelphia Counties, the company offers professional tree and lawn evaluation, tree pruning, tree removal, insect and disease control, fertilizing, stump removal and traditional and 100% organic lawn programs to keep lawns healthy and green . Giroud Arborists are certified by the International Society of Arboriculture (ISA) and have the knowledge and experience required to properly diagnose, treat and maintain trees and lawn health. The company is Accredited by the Better Business Bureau and has been awarded the Angie's List Super Service Award® every year since 2005. The "Giroud Treework for Charity" program donates free tree care services to parks, historical sites and other non-profit organizations located in the Company's service area. For more information, visit the company website at https://www.giroudtree.com or call 215-682-7704.