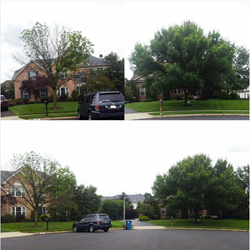 In good conscience, a company should not take money from homeowners for treatments that do not fully protect a tree from Emerald Ash Borer
Huntingdon Valley, PA (PRWEB) July 17, 2017
Many homeowners are looking for ways to keep Emerald Ash Borer from destroying beautiful Ash trees. Several treatments are available but effectiveness varies from minimal protection to almost complete control. Additionally, some Ash may be too damaged to respond to treatment. Giroud Tree and Lawn answers the questions homeowners need to ask about Emerald Ash Borer control and whether or not it's worth the money.
"Emerald Ash Borer kill Ash trees so quickly that homeowners shouldn't waste money on treatment unless the tree is still in good health," advises Lou Giroud, president of Giroud Tree and Lawn and ISA Certified Arborist. "Giroud will not treat an Ash tree unless 70% of the crown is healthy. In cases where more than 30% of the crown has died, the odds of success are too low to justify treatment. As the tree continues to decline, it will rapidly become brittle and a safety hazard."
In a quest to find the best treatment options, researchers have exhaustively studied Emerald Ash Borer (EAB). "Insecticide Options for Protecting Ash Trees from Emerald Ash," presents conclusions from over a decade of research by four universities. This research confirms that: "Emamectin benzoate consistently provides at least two years of EAB control with a single application, even in large and very large trees under intense pest pressure. It also provided a higher level of control than other products in side-by-side studies."
Unsuspecting homeowners can be lured into using lower cost alternatives. It's important to note that most treatment options must be applied every year. By contrast, Emamectin benzoate, (Tree-age) is only needed every two years. Besides cost, the biggest consideration is what is the best Emerald Ash Borer Control Treatment to protect the tree?
"In good conscience, a company should not take money from homeowners for treatments that do not fully protect a tree from EAB," continues Lou Giroud. "While other treatments may reduce EAB populations by 30%-60%, the deadly pest can still be in the tree and continue to destroy it over time. Tree-age trunk injection is the only treatment that Giroud Tree and Lawn recommends to its customers."
Here are the questions a homeowner needs to ask before buying Emerald Ash Borer control treatment and the answers that the professional should provide:
1. Have Emerald Ash Borer been found near the property? Treatment should be done once EAB has been confirmed within 15 miles of the property.
2. Does the tree already have signs of EAB? Look for D shaped exit wounds and crown die back.
3. Is the tree still healthy enough to absorb and transmit the treatment through the tree? To be eligible for treatment, Trent Dicks, Technical Manager for Arborjet which manufactures Tree-age, recommends an even higher health threshold: "The Ash should have at least 70% of the canopy intact to be able to save the tree."
4. Which treatment option does the ISA Certified Arborist or tree service professional recommend and why? As noted, research has proven that Tree-age trunk injections provide the best control against Emerald Ash Borer and the treatment lasts for two years.
5. Is the technician licensed by the state to perform the treatment? Licensed professionals know how to calculate the right dosage for the size of the tree and the proper set-up for the application.
Bottom line, upfront research and asking the right questions can help homeowners make a good decision about whether or not to protect Ash trees from Emerald Ash Borer.
About Giroud Tree and Lawn
Giroud Tree and Lawn specializes in tree service, tree removal and lawn care programs that make customers love doing business with the company since 1974. Serving Bucks, Montgomery and Philadelphia Counties, the company offers professional tree and lawn evaluation, tree pruning, tree removal, insect and disease control, fertilizing, stump removal and traditional and 100% organic lawn programs to keep lawns healthy and green . Giroud Arborists are certified by the International Society of Arboriculture (ISA) and have the knowledge and experience required to properly diagnose, treat and maintain trees and lawn health. The company is Accredited by the Better Business Bureau and has been awarded the Angie's List Super Service Award® every year since 2005. The "Giroud Treework for Charity" program donates free tree care services to parks, historical sites and other non-profit organizations located in the Company's service area. For more information, visit the company website at https://www.giroudtree.com or call 215-682-7704.