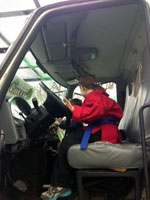 Kids were excited to see the tree service truck and learn how Giroud Tree and Lawn uses it.
(PRWEB) March 25, 2014
The Giroud Tree and Lawn bucket truck recently rolled into the parking lot at Glenside Library for Big Truck Day. Joining 8 other work trucks, Giroud volunteers, Joe Hock, Matt Giroud and Taylor Klein showed children how the bucket truck works and what kinds of tree service jobs Giroud Tree and Lawn does with it.
"It was a great day, says Matt Giroud, Giroud Tree and Lawn Crew Leader. The kids were so excited to learn about the truck, see how it works and actually get a view from the driver's seat."
In addition to Giroud Tree and Lawn's bucket truck, children were able to get hands-on tours of Cheltenham Township's recycling truck, backhoe and police SWAT vehicle, Glenside Volunteer Fire Company's truck, AAA's tow truck, JDM Materials' cement mixer, Giant Foods' Peapod truck, and the Montgomery-Norristown Library's bookmobile.
"This was our second year for Big Truck Day and it was a great success," says Stephanie Campbell, Head Librarian at Glenside Library in Glenside PA. "Over 300 parents and kids enjoyed getting a close-up view of the trucks that do all sorts of important jobs."
About Giroud Tree and Lawn
Giroud Tree and Lawn specializes in tree service, tree removal and lawn care programs that make customers love doing business with the company since 1974. Serving Bucks, Montgomery and Philadelphia Counties, the company offers professional tree and lawn evaluation, tree pruning, tree removal, insect and disease control, fertilizing, stump removal and traditional and 100% organic lawn programs to keep lawns healthy and green . Giroud Arborists are certified by the International Society of Arboriculture (ISA) and have the knowledge and experience required to properly diagnose, treat and maintain trees and lawn health. The company has been awarded the Angie's List Super Service Award® every year since 2005. The "Giroud Treework for Charity" program.