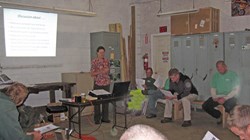 Giroud's tree service crews are likely to encounter honeybees. since colonies are often located in tree cavities.
Philadelphia, PA (PRWEB) October 21, 2013
Honeybees are in trouble and it's a serious threat to the world's food supply. In a recent workshop held at Giroud Tree and Lawn, Philadelphia Beekeeper Guild President, Suzanne Matlock, shows how tree service companies and Philadelphia area homeowners can protect this valuable resource. As shown in the Honeybee Training Workshop video, the training session focused on identifying honeybees, why honeybees are important to crop production, finding honeybees in trees, and resources to contact for safe removal of honeybee swarms and colonies.
"The Philadelphia Beekeepers Guild is concerned that honeybee populations are declining, explains Suzanne Matlock, Guild President. "As a beekeeper, this workshop was a great opportunity to educate tree service employees about saving honeybees."
"Honeybees often locate colonies in tree cavities and other structures, which means Giroud tree service crews are likely to encounter swarms or colonies on the job," says Lou Giroud, President of Giroud Tree and Lawn. "The crews now have a better understanding about the importance of honeybees, what to look for when climbing a tree or encountering a swarm and who to contact for safe removal."
Pollinating over 100 crops and 22 species of flowers, the honeybee is responsible for one out of every three bites of food consumed. Unlike yellow jackets and other members of the aggressive wasp family, honeybees are gentle, stinging only as a last resort to defense the colony.
Honeybees are plump, furry and gentle with a light to dark brown body and pale and dark hairs. Colonies nest in man-made hives, in the open and in tree cavities. Honeybees swarm to locate new nest.
A honeybee swarm or colony can be a frightening sight. Ms. Matlock advises the following actions:
1. Stand Clear: While swarms are usually docile, it is still best practice to step at least a few yards away from the area.
2. Don't Kill the Bees! Honeybees are valuable pollinators and can easily be saved. Resist calling an exterminator, who will spray insecticide and destroy the honeybees.
3. Contact A Beekeeper: At no cost, beekeepers will safely and humanely remove virtually the entire migrant colony, often in less than an hour.
With populations declining and its importance to crop pollination, saving honeybees from extermination has become extremely important. Giroud Tree and Lawn is committed to protecting honeybees and has provided its crews with resources to contact for safe removal of honeybees from trees. For a list of beekeepers that will capture swarms, visit the Philadelphia Beekeepers Guild website: http://www.phillybeekeepers.org.
About the Philadelphia Beekeepers Guild
The Philadelphia Beekeepers Guild works to encourage and promote urban beekeeping through fellowship and education, and to raise awareness of the importance of bees to our environment.
The Philadelphia Beekeepers Guild has grown from what began in 2009 as a small, informal group of local beekeepers. Because of the swift growth of our membership, The Guild quickly established itself as a not-for-profit organization, and meetings are now held regularly at various sites around the city on the third Thursday of each month. For more information visit: http://www.phillybeekeepers.org.
About Giroud Tree and Lawn
Giroud Tree and Lawn specializes in tree service, tree removal and lawn care programs that make customers love doing business with the company since 1974. Serving Bucks, Montgomery and Philadelphia Counties, the company offers professional tree and lawn evaluation, tree pruning, tree removal, insect and disease control, fertilizing, stump removal and traditional and 100% organic lawn programs to keep lawns healthy and green . Giroud Arborists are certified by the International Society of Arboriculture (ISA) and have the knowledge and experience required to properly diagnose, treat and maintain trees and lawn health. The company has been awarded the Angie's List Super Service Award® every year since 2005. The "Giroud Treework for Charity" program donates free tree care services to parks, historical sites and other non-profit organizations located in the Company's service area. For more information, visit the company website at http://www.giroudtree.com or call 215-682-7704.