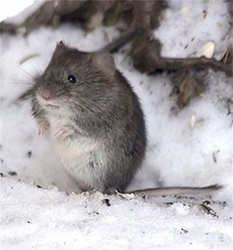 Heavy snow was the perfect environment for lawn damage from voles and fungus.
(PRWEB) March 13, 2014
The snow is finally melting in Philadelphia and homeowners are seeing lawns for the first time in months. Unfortunately, many are finding significant damage including strange runways chiseled through lawns, ugly pink tinged spots and tree and shrub roots that appear to be gnawed. Giroud Tree and Lawn explains the problems and the lawn and tree service actions homeowners can take to repair the damage and get ready for Spring.
"Heavy snow created the perfect environment for lawn damage from voles and fungus," explains Mike Taraborrelli, Lawn Service Manager at Giroud Tree and Lawn. "While voles were able feed and dig undisturbed for months, snow mold fungus also erupted on many lawns."
Strange, meandering cracks or runways in the lawn are the first sign of vole activity and damage. Voles dig "runways" under the snow to venture out from burrows located in well hidden spots like mulch, tall grass, wood piles and rocks. Searching for food is the primary mission of this foray. Besides chewing blades of grass down to ground level, voles may also do considerable tree and shrub damage.
Most lawns will recover from vole damage without help. Lawns with extensive damage may require homeowner or lawn service intervention. Actions can include raking away the debris and excrement in the runways, additional topsoil, a light application of fertilizer and overseeding areas that do not recover with a compatible mix of grasses. Overseeding should be done before pre-emergent crabgrass controls are applied.
Vole damage to trees and shrubs can be life threatening. Single stemmed trees like dogwood and crabapple will likely die if voles have girdled the tree by eating the bark completely around the trunk. Multi-stemmed shrubs like Juniper, Rhododendron, Viburnum, Euonymous (Burning Bush) and Azalea can survive. Professional pruning and/or fertilization may help with recovery.
A second common problem caused by the heavy snow cover is snow mold. Characterized by circular patches of matted grass with a pinkish tinge, snow mold is a fungus that erupts in cold, wet conditions. For extensive damage, fungicide treatment, lawn aeration to open up the matted areas and slit seeding are recommended.
To ensure the lawn, trees and shrubs are ready for spring, homeowners should contact a lawn service professional to inspect lawn condition and health. Trees and shrubs damaged by voles, winter storms or other problems should be evaluated by an ISA Certified Arborist for safety and health to determine if removal is required or if the plants can be saved.
About Giroud Tree and Lawn
Giroud Tree and Lawn specializes in tree service, tree removal and lawn care programs that make customers love doing business with the company since 1974. Serving Bucks, Montgomery and Philadelphia Counties, the company offers professional tree and lawn evaluation, tree pruning, tree removal, insect and disease control, fertilizing, stump removal and traditional and 100% organic lawn programs to keep lawns healthy and green . Giroud Arborists are certified by the International Society of Arboriculture (ISA) and have the knowledge and experience required to properly diagnose, treat and maintain trees and lawn health. The company has been awarded the Angie's List Super Service Award® every year since 2005. The "Giroud Treework for Charity" program donates free tree care services to parks, historical sites and other non-profit organizations located in the Company's service area. For more information, visit the company website at http://www.giroudtree.com or call 215-682-7704.