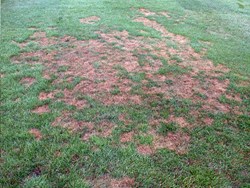 The best way to control fungus is to reseed in the fall.
Philadelphia, PA (PRWEB) August 06, 2013
Hot weather and drenching rains have made lawn care in Philadelphia a challenge this summer. Fungal outbreaks from excessive rain and weed proliferation are an all too common sight. After completing inspections of damage on numerous lawns in the Philadelphia area, Giroud Tree and Lawn, offers lawn care solutions homeowners can use to control fungus and weed problems.
Two fungal infestations are especially prevalent this year: Brown Patch and Pythium Blight. At this point in the growing season, fungal control options for DIY and lawn service professionals include fungicide treatments and reseeding in the fall.
"When residential lawns have a fungal outbreak," explains Mike Taraborrelli, Lawn Care Manager and PA Certified Pesticide Applicator at Giroud Tree and Lawn, "Giroud generally does not recommend fungus treatments. Fungicides are expensive, multiple applications are required and control is not reliable since outbreaks can continue to erupt after too many days of rainy weather."
"The best way to control fungus is to reseed in the fall," advises Mr. Taraborrelli. "When cooler weather arrives, the homeowner or lawn care service professional can reseed with newer, more disease resistant grass varieties. Giroud Tree and Lawn uses slit seeders and core aerators to cut through dead patches and get the new seed to the soil. Newly seeded lawns are also topdressed with compost to help facilitate recovery," concludes Mike.
For the war on weeds, lawns have been invaded by heat and moisture loving weeds such as nutsedge and crabgrass. These nuisance plants are treatable only when temperatures are cool enough to permit herbicide use without damaging turf.
Homeowners can reduce weed and fungus challenges for the remainder of the summer by adjusting watering and mowing routines. First, avoid overwatering which promotes fungal growth. Additionally, be sure to maintain a minimum mowing height of 3" to discourage nutsedge, crabgrass, and weed growth.
A healthy, thick lawn is the best deterrent for weeds and fungus. The road to lawn health for most homeowners begins with hiring a lawn service company. The best programs will offer custom fertilizer and weed control treatments that are adjusted for the season and each lawn's specific needs. Additionally, the lawn service should have a PA Certified Pesticide Applicator for Turf who carefully monitors the lawn throughout the growing season. Finally, pest and herbicide treatments should be applied only if a specific problem exists and targeted to the problem area. These steps ensure a healthy lawn and protect the environment.
About Giroud Tree and Lawn
Giroud Tree and Lawn specializes in tree service, tree removal and lawn care programs that make customers love doing business with the company since 1974. Serving Bucks, Montgomery and Philadelphia Counties, the company offers professional tree and lawn evaluation, tree pruning, tree removal, insect and disease control, fertilizing, stump removal and traditional and 100% organic lawn programs to keep lawns healthy and green . Giroud Arborists are certified by the International Society of Arboriculture (ISA) and have the knowledge and experience required to properly diagnose, treat and maintain trees and lawn health. The company has been awarded the Angie's List Super Service Award® every year since 2005. The "Giroud Treework for Charity" program donates free tree care services to parks, historical sites and other non-profit organizations located in the Company's service area. For more information, visit the company website at http://www.giroudtree.com or call 215-682-7704.