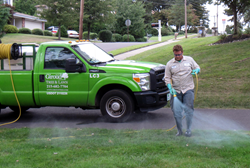 Every lawn is unique. That's why, lawn care protocols need to be customized for each lawn.
Philadelphia, PA (PRWEB) May 05, 2014
Lawn envy season is upon us and many Philadelphia homeowners are wondering why the neighbor's lawn is a green carpet while their lawn is a weedy mess. The answer may be as simple as better growing conditions or more likely that the neighbor is taking the right actions to build and maintain lawn health. From proper mowing and watering to advice on treating problem areas, Giroud Tree and Lawn provides the Top 10 Lawn Service Tips to help homeowners get a lawn that is the envy of the neighborhood.
"Every lawn is unique," says Mike Taraborrelli, Lawn Care Manager with Giroud Tree and Lawn and PA Certified Lawn Applicator. "Soil and other growing conditions can vary radically between neighbors or even different areas of the same lawn. As a result, lawn care protocols need to be customized to fit the specific requirements of each lawn."
Giroud Tree and Lawn recommends taking the following actions:
1. Lawn Inspection: Get a full evaluation by a lawn service with PA Certified Lawn Applicators. The inspection should include testing soil conditions, evaluating lawn problem areas and determining the best course of action.
2. Fertilize at the Proper Time: Since every lawn is different, treatment must be customized to fit each lawn's specific needs and growing conditions.
3. Control Weeds and Crabgrass: Having a thick, healthy lawn is the best control since weeds tend to thrive in thin or bare areas. Control crabgrass and weeds with a selective herbicide that will not harm turf grass.
4. Insect and Disease Problems: Outbreaks should only be treated if the problem actually exists. If confirmed, proper timing of treatments is critical.
5. Planting for Sun vs. Shade: Don't fight Mother Nature, work with it.

Full sun areas: Use Kentucky bluegrass, perennial ryegrass or tall fescue
Shadier spots: Plant fine or red fescue.
Heavy shade: Plant ground covers like Pachysandra, English Ivy and Periwinkle or shade tolerant perennials like Hosta, Lamium, Liriope and Astilbe.
6. Seed at the Right Time: The best time for seeding is the Fall, between mid-August and mid-September. Second best is Spring, between mid-March and mid-April. Lawns should be over-seeded every three to five years in the Fall with a mix of disease resistant turf-grass varieties.
7. Aeration: Can be done annually to reduce soil compaction, reduce thatch levels and promote healthy root growth.
8. Topdressing: Top-dress your lawn with compost to combat thatch and add nutrient and microbe rich organic matter to your soil.
9. Mowing: Set lawn mower height at 3 inches to prevent scorching, thinning, and weed/crabgrass infestations.
10. Watering: Water infrequently and deeply, providing 1 inch of water a week. Don't water just when the grass starts to brown. Inconsistent watering stresses the lawn as it jumps in and out of summer dormancy.
About Giroud Tree and Lawn
Giroud Tree and Lawn specializes in tree service, tree removal and lawn care programs that make customers love doing business with the company since 1974. Serving Bucks, Montgomery and Philadelphia Counties, the company offers professional tree and lawn evaluation, tree pruning, tree removal, insect and disease control, fertilizing, stump removal and traditional and 100% organic lawn programs to keep lawns healthy and green . Giroud Arborists are certified by the International Society of Arboriculture (ISA) and have the knowledge and experience required to properly diagnose, treat and maintain trees and lawn health. The company is Accredited by the Better Business Bureau and has been awarded the Angie's List Super Service Award® every year since 2005. The "Giroud Treework for Charity" program donates free tree care services to parks, historical sites and other non-profit organizations located in the Company's service area. For more information, visit the company website at http://www.giroudtree.com or call 215-682-7704.