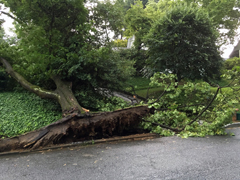 Like a bully on the playground, summer storms prey on the weakest trees.
Huntingdon Valley, PA (PRWEB) July 24, 2017
Summer storms are inevitable as weather temperatures in Philadelphia climb. These high wind and rain storms wreak havoc across communities and often result in massive tree damage requiring emergency tree service. Giroud Tree and Lawn provides the Top 3 actions homeowners can take now including tree trimming, tree cabling and hazardous tree removal.
"A summer storm is like a bully on the playground, who preys on the weakest person, says Lou Giroud, President of Giroud Tree and Lawn and ISA Certified Arborist. Like the bully, summer storms pick on the weakest trees, tossing huge limbs and slamming entire trees on homes, cars or other valuable property."
How does a homeowner know if a tree is weak? "The best approach is to have a professional tree service with ISA Certified Arborists check tree safety now," says Mr. Giroud. "The Arborist will look for cracks, decay, excessive deadwood, structural defects and other problems."
The Top 3 tree service actions to prevent summer storm damage are tree trimming, tree cabling and hazardous tree removal.
1. Tree Trimming: Professional tree service crews are trained to thin crowns and remove crossed, weak and dead branches to ensure high winds can easily move through the tree.
2. Tree cabling: Trees with multiple trunks or weakly attached limbs are prime targets for splitting. Tree cabling keeps limbs and trunks secure. A professional Arborist will select the appropriate cable system and ensure it is installed at the right height and tension,
3. Tree Removal: Trees that are dead or have unstable root systems are hazardous and must be removed. Considered the most dangerous operation performed in the tree service industry, tree removal requires professionals with the knowledge and equipment to safely remove trees even in the most challenging locations.
Summer storms can hit without warning. All trees near a home or other valuable structure need to be thoroughly evaluated for safety by an ISA Certified Arborist. An evaluation is often free. The potential to save the homeowner from extensive tree damage is priceless. The resulting tree service recommendations which may include tree trimming, tree cabling and hazardous tree removal will ensure homeowners can keep trees and property safe.
Before choosing a tree service company, homeowners need to check the company's references, professional credentials and insurance coverage. Ask for a written estimate and the company's customer satisfaction policy. These simple steps will help to ensure the tree service is done to professional standards and the homeowner is satisfied with the end result.
About Giroud Tree and Lawn
Giroud Tree and Lawn specializes in tree service, tree removal and lawn care programs that make customers love doing business with the company since 1974. Serving Bucks, Montgomery and Philadelphia Counties, the company offers professional tree and lawn evaluation, tree pruning, tree removal, insect and disease control, fertilizing, stump removal and traditional and 100% organic lawn programs to keep lawns healthy and green . Giroud Arborists are certified by the International Society of Arboriculture (ISA) and have the knowledge and experience required to properly diagnose, treat and maintain trees and lawn health. The company is Accredited by the Better Business Bureau and has been awarded the Angie's List Super Service Award® every year since 2005. The "Giroud Treework for Charity" program donates free tree care services to parks, historical sites and other non-profit organizations located in the Company's service area. For more information, visit the company website at https://www.giroudtree.com or call 215-682-7704.