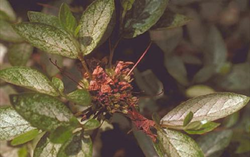 Trees and shrubs are under attack from insects and disease this season.
Philadelphia, PA (PRWEB) June 12, 2014
Insect and disease problems are rampant on Philadelphia properties this year. The higher than normal incidence may be due to the extremely rough winter and late start to spring. The ISA Certified Arborists at Giroud Tree and Lawn have identified the Top 7 most destructive insects and diseases, the trees and shrubs most at risk and explain the actions homeowners can take to protect tree and shrub health.
"Trees and shrubs are under attack from insects and disease this season," explains Lou Giroud, President of Giroud Tree and Lawn and ISA Certified Arborist. "From leaf spots to insects actively feeding, Giroud Arborists are finding the signs of infestation on trees and shrubs throughout Montgomery, Bucks and Philadelphia counties."
Here are the Top 7 Insect and Disease Problems, the trees and shrubs most at risk and the actions that can be taken now."
1. Ash Rust: Outbreak caused by fungal spores blowing up from the salt marshes in NJ. A rare occurrence in Philadelphia, the fungus causes leaf problems including yellow-orange spots, curling and premature leaf drop.
High Risk Plants: Ash trees
Action: It is too late in the season to treat the fungus. However, infected trees should inspected by an ISA Certified Arborist. Deep root fertilization and other actions may be recommended in the Fall.
2. Adelgid: Damage appears as cottony dots on the underside of hemlock branches or a snow-like dusting on Pine bark.
High Risk Plants: Eastern Hemlock and Pines
Action: Control is required and must be timed when the pest is most vulnerable.
3. Soft Scales: Look for black, sooty residue on leaves, white specks, cottony masses, wart-like bumps on stems, twigs or branches.
High Risk Plants: Azalea, Beech, Holly, Tulip, Poplar, Magnolia, Yew, Euonymus, fruit trees and numerous conifers such as Hemlock
Action: Scale damage to plants and the timing for treatment varies by type of Scale.
4. Lacebugs: Damage can be severe including leaf discoloration, loss of vigor and premature leaf drop.
High Risk Plants: Azaleas, Birch, Hawthorn and Piers Japonica
Action: Treatment protocols will depend on timing and the severity of the infestation.
5. Spider Mites: Two types cause the most damage in Philadelphia. Spruce Spider Mites can make evergreen needles turn a rusty color and drop prematurely. Two Spotted Spider Mites cause leaves to become yellowed, stippled, or mottled and drop prematurely.
High Risk Plants: Evergreens and deciduous trees including Spruce, Boxwood, Euonymus (Burning Bush) and Viburnum
Action: Early detection and treatment are key to saving the plant.
6. Aphids: Warning signs are stunted growth and wilted, distorted, curled, or yellowed foliage.
High Risk Plants: Beech, Plum, Purple Leaf Plums, Tulip
Action: Control measures can include proper pruning, fertilizing, and watering. Introducing beneficial insects can also play an important role in aphid control. Severe infestations may require chemical control.
7. Bagworms: Look for cone shaped bags hanging from branches of evergreens or small brown spots on leaves of decidous trees
High Risk Plants: Arborvitae, Juniper, Spruce and many other evergreen and deciduous trees
Action: Manual removal of bags and chemical treatment for severe infestations
Early detection by a professional tree service is the key to saving trees suffering from insect or disease problems. Homeowners concerned about tree health, should contact a tree service company with ISA Certified Arborists. The Arborist will inspect the trees, diagnose the problem and recommend the best course of action.
About Giroud Tree and Lawn
Giroud Tree and Lawn specializes in tree service, tree removal and lawn care programs that make customers love doing business with the company since 1974. Serving Bucks, Montgomery and Philadelphia Counties, the company offers professional tree and lawn evaluation, tree pruning, tree removal, insect and disease control, fertilizing, stump removal and traditional and 100% organic lawn programs to keep lawns healthy and green . Giroud Arborists are certified by the International Society of Arboriculture (ISA) and have the knowledge and experience required to diagnose, treat and maintain tree and lawn health. The company is accredited by the Better Business Bureau and has been awarded the Angie's List Super Service Award® every year since 2005. The "Giroud Treework for Charity" program donates free tree care services to parks, historical sites and other non-profit organizations located in the Company's service area. For more information, visit the company website at http://www.giroudtree.com or call 215-682-7704.