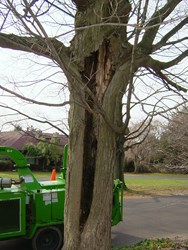 Dead trees can be a safety hazard. Winter is the best time for tree removal.
Philadelphia, PA (PRWEB) January 30, 2014
Bare and dead looking deciduous trees are normal for Philadelphia in winter. However, homeowners need to be alert for dead trees that may be a safety hazard to homes, people and surrounding property. Giroud Tree and Lawn provides tips for identifying dead trees, determining when a safety inspection by an ISA Certified Arborist is needed and taking action such as tree removal if a tree is found to be hazardous.
A dead or dying tree is more than an eyesore. It can also be a safety hazard. A storm can easily topple a dead tree because it no longer has a thriving root system to keep it stable. Additionally, large dead limbs are most vulnerable to breakage in high winds. When trees and limbs fall, the damage can be costly.
"That's why it's important for homeowners to know if the tree hanging over the house is simply dormant or dead," says Lou Giroud, ISA Certified Arborist and President of Giroud Tree and Lawn near Philadelphia, PA. "Homeowners can get a sense of whether a tree is in serious decline or already dead by doing a few basic tests."
1. Did the tree show signs of stress last summer? Premature development of autumn leaf colors, early leaf drop, abnormally small or pale leaves, or new growth that wilted are all indicators of a potential problem.
2. Does the trunk have a cavity or signs of splitting? Scan the trunk and main leaders for holes (cavities), decay and cracked or split crotches.
3. Is the bark peeling from the trunk? Gently pull on a piece of bark. It should not break off easily.
4. Are twigs and buds developing normally? Scrape either a twig or bud with a thumbnail. It should be a healthy green, not brown or otherwise discolored.
5. Is new growth surviving the strains of winter? Try to bend a twig, does it snap because it's dry and brittle?
"If a tree is displaying any of the above warning signs, the homeowner should have an ISA Certified Arborist do a tree safety inspection and determine the best course of action," recommends Lou Giroud. "Next steps may include tree removal, cabling weak limbs and deadwood removal."
In general, winter is the best possible time for tree service. With hard frozen ground, heavy tree equipment can usually be brought closer to the removal site. In addition, the impact on dormant lawns, understory shrubbery and flower beds is minimal. Finally, since winter is the slowest season, homeowners can expect faster turnaround in getting the job done.
About Giroud Tree and Lawn
Giroud Tree and Lawn specializes in tree service, tree removal and lawn care programs that make customers love doing business with the company since 1974. Serving Bucks, Montgomery and Philadelphia Counties, the company offers professional tree and lawn evaluation, tree pruning, tree removal, insect and disease control, fertilizing, stump removal and traditional and 100% organic lawn programs to keep lawns healthy and green. Giroud Arborists are certified by the International Society of Arboriculture (ISA) and have the knowledge and experience required to properly diagnose, treat and maintain trees and lawn health. The company has been awarded the Angie's List Super Service Award® every year since 2005. The "Giroud Treework for Charity" program donates free tree care services to parks, historical sites and other non-profit organizations located in the Company's service area. For more information, visit the company website at http://www.giroudtree.com or call 215-682-7704.