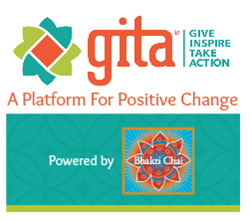 We believe that every person, no matter how little money or power they have, can Give, Inspire, and Take Action to create positive change in the world.
Boulder, CO (PRWEB) June 29, 2015
Bhakti Chai, known for craft-brewing a spicy, India-inspired chai announced today the launch of their new "GITA Giving" website. Bhakti Chai has become a leader in business, both by creating innovative healthy beverages and embracing a profit model that prioritizes giving back to the global community and inspiring others to live their Bhakti by doing the same. Bhakti, which means "devotion to social action" in Sanskrit, has lead the company's social mission since its inception and granted over $350,000 in charitable donations around the world. The new online platform will launch an ongoing initiative to bring greater awareness to the causes Bhakti Chai supports with an estimated over $100,000 to grantees in 2015.
GITA means "Share Your Story" in Sanskrit and is the foundation for Bhakti Chai's platform for positive social change. G.I.T.A. stands for "Give", "Inspire", "Take Action" with the goal to give causes and bystanders alike the voice and tools they need to share their story of social change.
"Bhakti Chai started from humble beginnings. We had an idea, passion and vision, but not much else. We couldn't have succeeded without the help of others. And it was important to us from the beginning to use business as a force for positive social impact. Now it's our turn to make a difference for the unknown, underfunded and undeterred. It's our turn to reach out and lift up others. We believe that every person, no matter how little money or power, can create positive change in the world." – Brook Eddy, Founder & CEO of Bhakti Chai.
The Gita Giving website highlights projects that are impacting the global community in three categories: Women and Girls, Civic and Community, and Sustainability and the Environment. The platform launched with projects including:

Wello delivers clean water to a thirsty world by introducing the WaterWheel; not only dramatically reducing the time and physical burdens of water collection but also helping families lift themselves out of poverty.
Start A Snowball is committed to empowering kids to engage in philanthropy by granting children $100 to foster their passion in community service.
Girl Forward empowers refugee girls to be strong, confident and independent through mentorship programs, camps and the Safe Spaces Project.
The Goddess Project is creating a documentary about real women who have overcome fears and realized their potential.
The Growe Foundation provides children with engaging educational experiences that connect them to food, how it's grown and why fruits and vegetables are essential to their diet.
Infused Fitness collaborates with local fitness studios to bring the community donation-based classes that in turn provide opportunities nutrition education to underprivileged families in the community.
One Sandwich At A Time feeds the growing homeless and underfed population in America with peanut butter and ham & cheese sandwiches.
Warm Cookies of the Revolution is the world's first civic health club working to increase political and civic engagement.
13-14-15 is the journey of three young women hiking thirteen fourteeners in the summer of 2015 and spreading awareness for organizations that advocate for nature and encourage women to explore the outdoors.
The Gita platform not only provides information about each project, but also offers visitors the opportunity to "give" (financial donations), "inspire" (inspire others via social media sharing), and "take action" (specific support each project needs to keep going). Projects can be nominated via an online form and organizations can apply right online.
"We believe that every person, no matter how little money or power they have, can Give, Inspire, and Take Action to create positive change in the world. However, too often individuals with big ideas go unnoticed because they lack funding and support. What could be a world-changing project or idea may never be realized due to a lack of awareness," shares Eddy.
About Bhakti Chai:
An interest in social action and a passion for travel led Bhakti Chai Founder and CEO Brook Eddy to India in 2002 to research a movement based on the principles of Bhakti, or "devotion through social action." In 2007, Bhakti Chai was born with the vision of fusing sustainably sourced ingredients, artisan craft-brewed products and the values of triple bottom line business. This vision and leadership continue to permeate the company's spicy brew by championing causes through their new Gita Giving platform and blending beverages into a crusade for a better world. Bhakti Chai concentrates, ready-to-drinks and Artisan teas are available at Whole Foods Markets, natural and independent markets, Costco, Kroger, Target, and cafés around the country.