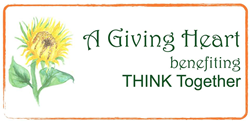 Redlands, California (PRWEB) March 27, 2014
NBC4 Southern California Inland Empire Reporter Tony Shin will be emcee THINK Together's "A Giving Heart" fundraising event taking place April 10 at the historic Burrage Mansion in Redlands. Longtime traffic reporter and San Bernardino native Commander Chuck Street will also participate in the auction component to help raise funds as our Special Guest Presenter.
The event will focus on the children who attend THINK Together's extended learning time programs in San Bernardino County and to raise funds to support Redlands, Rialto and Colton Joint Unified School districts as well as increase the awareness of THINK Together programs in the Inland Empire.
The food and wine event will feature tasty Mediterranean and American cuisine from local farms and restaurants. The local purveyors who have agreed to attend this year's event include: Anoush Catering, Brewcakes, Chez Sabine, Dream Dinners, Escape Craft Brewery, Hangar 24, Hund und Bier Haus, J. Hamilton Wines, Jouni's Kitchen, Lee Burton, Michelle's Bakery, Mill Creek Cattle Company, Olive Avenue Market, Panera Bread, Renaissance Banquet Hall, Rok N Fondue, State Street Winery, Stone Wheel Olive Oil Company, The Dregs, Time in a Bottle and Noyes Bakery.
"This event is a great way to showcase our talented local chefs and artisans and help our children at the same time," said Erin Brinker, the executive director of THINK Together's Inland Empire region. "Further, we are honored that Tony Shin and Commander Chuck Street have agreed to join us at this annual event. Their strong ties to the local community will help us bring greater visibility to our efforts to close the achievement gap in California and help our students reach their full potential."
Shin joined NBC4 Southern California as a general assignment reporter in 2013 and he primarily covers stories originating from the Inland Empire. Shin can be seen on the NBC4 during the News at Noon as well as the 5 p.m. and 6 p.m. newscasts. He has been awarded five Emmy awards, including breaking news, investigative reporting, general assignment reporting, on camera talent and team coverage. He also has received two Golden Mike awards, including one for writing.
Street, who is a graduate of Aquinas High School in San Bernardino, has been flying helicopters for more than 30 years and did the traffic announcing with KTLA and KIIS-FM for more than 25 years. He is a very experienced helicopter pilot with over 25,000 hours in the air. Street is also an experienced radio and television broadcaster having appeared and spoken on many television and radio shows over through the years.
The event will feature an auction with prizes that include a trip to Belize, a golf foursome at the Stone Eagle Private Golf Club in Palm Desert, hot air balloon rides and much more.
The Burrage Mansion is located at 1205 W. Crescent Avenue in Redlands. The event will take place from 6 p.m. to 9 p.m. Tickets to the event can be purchased at THINK Together's website by clicking here.
About THINK Together
THINK Together is a nonprofit education organization that partners with schools and school districts to provide support systems, mostly for low-income students, in order to close the achievement gap. It has grown into the state's largest provider of Extended Learning Time programs (early literacy, after-school, summer learning, etc.), currently serving more than 100,000 students at more than 442 locations across 41 school districts from San Diego to Sacramento. Partnering with school administrators and teachers, its academic programs and dedicated team of 3,000 employees are helping students statewide. THINK is an acronym: Teaching, Helping, Inspiring & Nurturing Kids. For more information, call (888) 485-THINK or visit http://www.THINKtogether.org