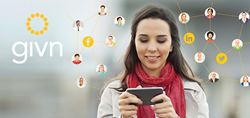 "This money will go a long way to helping with everything we do. If we don't have money in the bank, we have to turn an animal away. And we never want to do that." ~ ARWOB Executive Director Alondra Gomez
San Diego, CA (PRWEB) January 19, 2016
To kick-off 2016, givn by Posiba announces 3 Nonprofit Winners for their #SparkTheGood Contest including: Animal Rescuers Without Borders, Inc. (ARWOB), The Lighthouse Cares Foundation, and 1 More Win. The winners were selected based on the most social media engagements (Likes, Shares and ReTweets) using the givn app and website that lets users easily share and track donations (monetary and volunteer hours).
The exciting news is the positive impact of these givn prizes on the local community (even though it was a global contest, the winners are all from San Diego), and that these nonprofits were able to increase their annual donations because fans shared their donations on social media using givn. The winners will be using their prize money to reduce and save homeless dogs and cats, help students be more successful, and support underserved high school athletic programs.
These top three winners will be presented with $22,500 in checks at a special Posiba ceremony on Thursday, January 28, 2016, in San Diego, CA, including $10,000 (1st prize), $7,500 (2nd prize) and $5,000 (3rd prize). In addition to these winners, the six donors with the most engagement ("sparks") will be awarded $6,000 total to donate to their favorite cause, including $2,500 (1st prize, 1 winner), $1,000 (2nd prize, 2 winners) and $500 (3rd prize, 3 winners).
1. Animal Rescuers Without Borders, Inc. (ARWOB) (San Diego, CA) is dedicated to reducing the overpopulation of homeless pets and improving the lives of animals through rescue, fostering programs, adoption, and spaying and neutering. ARWOB's immediate plan is to use the givn #SparkTheGood funds to promote a more aggressive spay and neuter clinic to keep the animal population down. ARWOB Executive Director Alondra Gomez expressed great gratitude, "This money will go a long way to helping with everything we do. If we don't have money in the bank, we have to turn an animal away. And we never want to do that." To encourage fans to support them winning this contest, ARWOB sent a message out via Facebook and email. http://www.arwob.org/
2. The Lighthouse Cares Foundation (San Diego, CA) is run solely by volunteers, and strives to create meaningful and heartfelt ways to give back to the community. This foundation is part of the 600-person Lighthouse Christian Fellowship congregation. Some of their initiatives include lunches for the homeless, as well as serving meals to support the Ronald McDonald House. Board President Steve Sanchez explained how they plan to use their givn prize money, "We have decided that pushing academic advancement helps the kids the most, and that also helps the families." The money will provide things like backpacks, laptops computers, warm clothes and other necessities to high school students. http://lighthousecares.org/
3. 1 More Win was co-founded by San Diego radio personality Jess Lozano (Star 94.1 and 102.7 KIIS FM), and is dedicated to helping underserved high school athletic programs with necessary equipment and resources. "We kept seeing these great schools and great athletes that play in the same leagues as well-funded programs. They just couldn't compete, and sometimes couldn't even make it to games because they had no money for buses," Lozano explained. To help these teams in need, 1 More Win accepts nominations from local schools through their website. When a school is chosen to receive a donation, 1 More Win will support direct needs including equipment, nets, surfacing, uniforms, tournament entry fees, and other ways to help a team be more productive. Their motto and mission is: "Let's help a few needy teams get ONE MORE WIN this year!" 1 More Win is planning to use their givn prize money to energize their first golf tournament on March 5, 2016 with the goal of raising $25,000. http://www.1morewin.org/
About givn
givn is a social sharing app that makes supporting good causes more visible, tangible, actionable and contagious. Powered by the Posiba platform, givn is a secure website plugin that takes just minutes to put on a nonprofit's email or website. Donors and volunteers gain an easy way to socialize their support for the causes they care about and watch their impact grow. The givn app is just one of the ways Posiba brings people and information together. For more information, visit https://givn.social.
About Posiba
Posiba designed givn to increase the impact of charity support by leveraging social media. According to ORC's International Caravan Survey, 70% would take action if asked by a friend on social media. Posiba expands what's possible by expanding what's knowable. The company brings together public, private and crowd-sourced data with tools and analytics to help nonprofits, foundations and government know more about the impact they're having and how to increase it. Users of the affordable, subscription-based web service gain the means to share data-guided insights, make better informed decisions and discover how to make a bigger collective difference. http://www.posiba.com
MEDIA CONTACT: Liz Kelly, Goody PR, 1-310-987-7207