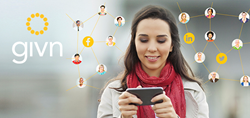 Posiba designed givn to increase the impact of charity support by leveraging social media.
San Diego, CA (PRWEB) December 28, 2015
With 12% of all US annual giving happening in the last 3 days of the year, Posiba is giving a last push for 5 nonprofits competing in their givn #SparkTheGood contest (ends December 31, 2015), including Trauma and Resiliency Resources' Warrior Camp®, Family Alliance for Counseling Tools and Resolution (factr), Augie's Quest, VinaCapital Foundation, and Diversified Intervention Group (DIG). Anyone (donors, volunteers and nonprofits) can sign up for a fun and free givn.social account, and increase donations by sharing their actions through the givn.social website, givn app and social media (Facebook, Twitter and LinkedIn).
Posiba designed givn to increase the impact of charity support by leveraging social media. According to ORC's International Caravan Survey, 70% would take action if asked by a friend on social media. The same survey found 1 in 3 would like a friend's post about donating to a charity.
For the givn #SparkTheGood Contest, nine nonprofit winners (3 nonprofits and 6 donor nominated nonprofits) will be selected based on the most "sparks" or social media engagements (Shares, Likes, Retweets and Comments) through the givn.social website and the givn app.
The top 3 nonprofits with the most social media engagements will win $10,000 (1st prize), $7,500 (2nd prize) and $5,000 (3rd prize). In addition to nonprofit winners, donors with the most engagement ("sparks") by year-end will win money to donate to their favorite cause, including $2,500 (1st prize), $1,000 (2nd prize) and $500 (3rd prize).
To provide an additional push for participating nonprofits of the givn #SparkTheGood Contest, Posiba asked all entries to submit blog posts (http://try.givn.social/blog-final-10-days) with an impact story for the givn.social blog and press release. The five blogs selected include these nonprofits, who are helping to get the word out about their good deeds for supporters and their networks.
1. Trauma and Resiliency Resources' Warrior Camp® mission is to heal the trauma of war in active duty military personnel and all combat veterans. Warrior Camp is one of the few programs that is directly addressing Moral Injury.
2. Family Alliance for Counseling Tools and Resolution (factr) promotes the resilience and well-being of refugees and immigrants through counseling, forensic services, educational workshops and opportunities for cultural exchange with the larger community.
3. Augie's Quest funds research and drug development aimed at ending ALS, Lou Gehrig's disease. Since 2007, Augie's Quest has raised over $44 million in support of finding effective ALS treatments-making it the largest individual fundraising program for ALS. Augie Nieto is the Chairman of the Board of Directors ALS TDI and co-founder of Life Fitness, the global leader in the fitness industry.
4. VinaCapital Foundation's mission is to empower the children and youth of Vietnam by providing opportunities for growth through health and education projects. Their vision is a Vietnam where all children, regardless of health complications or a lack of access to education, can take advantage of the numerous opportunities available so that they may contribute to society and accomplish their dreams.
5. Diversified Intervention Group's mission is to provide professional prevention (education), intervention, aftercare and treatment referral services to all individuals who suffer from all addictions. DIG trains students according to best practices, evidence based material by NAADAC (Association for Addiction Professionals).
About givn
givn is a social sharing app that makes supporting good causes more visible, tangible, actionable and contagious. Powered by the Posiba platform, givn is a secure website plugin that takes just minutes to put on a nonprofit's email or website. Donors and volunteers gain an easy way to socialize their support for the causes they care about and watch their impact grow. The givn app is just one of the ways Posiba brings people and information together. For more information, visit https://givn.social.
About Posiba
Posiba expands what's possible by expanding what's knowable. The company brings together public, private and crowd-sourced data with tools and analytics to help nonprofits, foundations and government know more about the impact they're having and how to increase it. Users of the affordable, subscription-based web service gain the means to share data-guided insights, make better informed decisions and discover how to make a bigger collective difference.
Media Contact: Liz Kelly, 1-310-987-7207