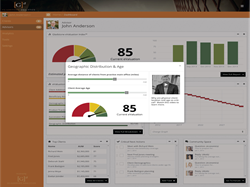 Conshohocken, PA (PRWEB) October 22, 2014
Gladstone Analytics (http://www.GladstoneAnalytics.com), the industry leader in comprehensive valuation and performance monitoring, announced the launch of its business intelligence platform for financial advisors. The suite of valuation models allows practitioners to accurately measure their success, plan for succession, and improve their bottom line. The tools are backed by 50 years of real-world expertise, comprehensive data, and cutting-edge technology to allow financial advisors to measure, monitor, and maximize the value of their business.
Gladstone Analytics' President, Owen Dahl, co-founded the company after repeatedly experiencing the huge variability and uncertainty surrounding business valuations. "Financial advisors are wasting a lot of time and money creating valuations that are not accurate. It's so common to be down in the weeds and not realize the impact, for instance, of client acquisition and departure rates; or the intended and unintended consequences of deal structures. We've built intuitive, transparent, easy to use tools backed by well-founded data and proven algorithms to help advisors understand the implications business decisions have on book value and provide action-oriented steps to improve the bottom line."
The suite allows financial advisors to understand and grow their practice and business value using real-time data synchronization with the firm's CRM and financial systems. Some of the features include:

Firm Benchmarking: Allow firms to benchmark themselves against a database of over 50,000 financial advisors in the US.
Advisor eValuation Index™: Track key data across multiple dimensions to showcase the present value, five-year projected cash flows, and client count forecasts of each advisor.
Firm eValuation Index™: Showcase the value of an entire practice including earnings contribution and key strengths and weaknesses driving the business.
Revenue Forecaster: Monitor five-year projected revenue, expenses, and net income across a firm and its advisors.
Due Diligence Reporting: Identify and report data gaps or red-flags firm-wide, at the advisor level, and down to the individual client level.
Scenario Modeling: Run "what-if" scenarios across all aspects of the business.
Financial advisors can assess the full suite of tools, including free trials, at http://www.GladstoneAnalytics.com.
About Gladstone Analytics: Gladstone Analytics is the business intelligence platform for financial advisors who want to accurately value, benchmark, and optimally run their practice.
About Gladstone Associates: Gladstone Associates is a financial services investment bank dedicated to helping advisory firms with transition planning and business strategy.