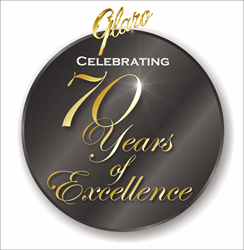 In 70 years, we never lost our focus—our commitment to quality—our commitment to manufacturing in the United States.
Hauppauge, NY (PRWEB) December 29, 2014
When the New Year starts, Glaro Incorporated will celebrate a major milestone—70 years in business. Employing local staff and manufacturing its products on American soil since its inception, Glaro Inc. epitomizes the ideal of 'Made In America.'
Originally founded in 1945 by Harry Glass, the business was launched in a Bronx, NY basement. Harry hand made products out surplus aluminum World War II materials. His keen ability to reuse and recycle metal into desirable products inspired Glaro's well known RecyclePro Recycling Receptacles, for example, which are widely recognized today. Since the 1940's, Glaro Inc. has evolved into the preeminent manufacturer of waste and recycling receptacles, bellman and platform carts, crowd control systems, coat hanging equipment and numerous other aluminum and steel products.
According to Executives, Glaro Inc. was one of the first companies to perfect the art of metal spinning as well as provide an extensive selection of finishes never seen before. "We did it at a quality level that other manufacturers could not execute. And we did it with a great level of care. To this day, our products are hand spun and personally handled through each part of the manufacturing process," says Bob Glass, Plant Manager.
Glaro Inc. Executive Vice President Robert Betensky reports that it is the company's 'total in-house manufacturing process' that has helped it achieve "total quality control." In-house control over all production stages and a strong inventory have enabled the company to consistently ship products out the door within a few business days. Even as other manufacturers began to produce more cheaply overseas, Glaro Inc. held to its high standards, even through several challenging economic periods. "We never lost our focus—our commitment to quality—our commitment to manufacturing in the United States."
At the same time, Glaro Inc. carved out a niche by departing from the existing utilitarian designs used by its competition. Instead, Glaro Inc. led the industry by creating new, high end designs and finishes that "people would admire," while ensuring its products were built to "outperform." Discovering an unmet need for this approach to manufacturing, the company hit a growth spurt in the 1950's that led to new product lines and further expansion. This trend continues to date. The company also acknowledges that its committed employees and its strong network of dealers are responsible for its continued growth and popularity.
For more information about Glaro Inc., please visit glaro.com or call 1-888-234-1050.
About Glaro
Glaro Inc., a New York based company, manufacturers product lines including bellman and luggage carts, platform trucks, metal trash receptacles, smokers' posts and receptacles, crowd control posts and systems, safety barriers, signs, sign frames, directories, menu display stands, coat hanging equipment, coat trees, indoor umbrella holders, wet umbrella bag stands, metal planters, and key drop boxes. The company recently launched a line of disinfecting wipe dispensers, FDA approved wipes and coordinating receptacles.