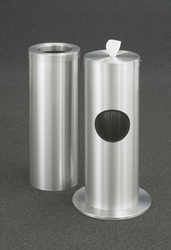 Wipes dispensers, wipes and receptacles are available for immediate shipment in the USA and abroad.
Hauppauge, NY (PRWEB) May 30, 2014
Glaro Inc., a leading U.S. manufacturer, has just launched the most unique and comprehensive family of coordinated floor and wall mounted wipe dispensers with matching waste receptacles. Developed to keep private and public facilities healthier, Glaro's wipes kill germs, remove dust and grime, and limit cross contamination.
"Our wipes uniquely fulfill a need in the market for a sturdy, durable, tough wipe dispenser that provides sleek design features able to seamlessly match any décor," says Executive Vice President Bob Betensky. "Like all Glaro Inc. lines, the engineering and craftsmanship underlying each design feature has been well thought out to ensure that they are easy to use, easy to maintain, and easy on the eyes."
The product line has three key components:
Wipe Dispensers:
Built with heavy gauge aluminum and steel as well as heavy weighted bases, Glaro's line includes a floor standing combination wipe dispenser and waste receptacle. It is also available as a wall mounted dispenser with a matching floor standing waste receptacle that neatly fits beneath it.
"They are specially built to dispense only one wipe with each pull; refilling wipes is as easy as using a push button mechanism to remove the top cover; and, the waste compartment on floor standing models can be emptied simply by lifting the body off of the base. Every aspect of this line was designed with 'convenience' in mind," says Executive Vice President Bob Betensky. This product contains the first ever design where two spring action push buttons ensure that the cover does not lift off of the body as wipes are pulled. All wipes products are also 100% post consumer recyclable metal and they are constructed using recycled aluminum. Optional silk screened wipe signs are available on all models, and three attractive rust and tarnish proof finishes are also offered.
FDA Approved Disinfecting Surface Wipes:
Glaro Inc. antibacterial wipes can be purchased as separate items from dispensing units. These FDA approved biodegradable wet wipes are available in rolls of 800 each (8" X 6"), and they can be ordered in a case of either one or four rolls. The wipes are designed to disinfect and sanitize equipment, objects and surfaces. They are not intended to be used as personal hygiene wipes.
Matching Waste Receptacles:
Matching or coordinated metal waste receptacles are available in number of round and half round models. A facility can choose to place these all purpose receptacles directly underneath a wall mounted unit, or they can be used anywhere nearby that best fits a building's needs.
All products are able to ship within a few days after an order is received as part of Glaro's highly regarded Quick Ship program. For more information, visit http://glaro.com/disinfectant-wipes-dispensers.htm.
About Glaro Incorporated:
Glaro Inc. (glaro.com) is the leading USA manufacturer of commercial and consumer aluminum and steel products sold directly to distributors/dealers for almost 70 years. All products ship in 1 to 3 days. Product lines include bellman and luggage carts, platform trucks, metal trash receptacles, recycling receptacles, smokers' posts and receptacles, crowd control posts and systems, safety barriers, signs, sign frames, directories, menu display stands, coat hanging equipment, coat trees, indoor umbrella holders, wet umbrella bag stands, metal planters, and key drop boxes. Glaro's new line of wipes stands and wipes is now available to all dealers and distributors. Visit http://www.glaro.com for more information.