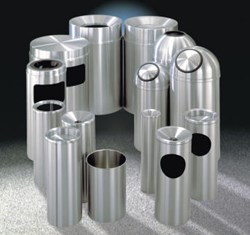 Glaro Inc. all metal receptacles are attractive and fire resistant, providing benefits to your visitors on both a visual and a safety level. With the variety of colors and finishes available, a customer can have a fire safe receptacle that looks vi
Hauppauge, NY (PRWEB) August 22, 2013
Glaro Inc., a leading national manufacturer of metal waste receptacles, recycling receptacles, smoking receptacles and a number of additional product lines, shares three compelling reasons why all metal fire resistant receptacles are essential for public buildings and an important part of a facility's safety plan.
Robust, all metal construction helps contain fires
First, Glaro Inc. points out that metal waste receptacles do not melt or burn. In addition, whereas an all metal construction does not emit harmful gases into the environment, plastic receptacles exposed to fire tend to melt and release toxic fumes into our surroundings. By contrast, Glaro executives say that heavy duty metal receptacles tend to be safer because they help contain fires by restricting the flow of oxygen critical to a fire's ability to spread.
Executive Vice President Bob Betensky says, "waste receptacle units with an additional steel inner liner create optimal fire resistance. Glaro inc. uses all metal liners made from heavy gauge steel, whereas many other manufacturers use plastic liners. The advantage of Glaro trash receptacles are that they will not flame up, burn, or melt. We don't believe in less effective alternatives."
Keeping customers and employees safe
Glaro Inc. claims that using fire safe receptacles is an excellent way for building managers and owners to demonstrate to their paying customers, occupants, visitors and even fire inspectors, that safety comes first. According to Bob Betensky, "a deadly fire in a building can be catastrophic to a community and its families. Taking preventative measures shows that you care and that you are actively decreasing risk, minimizing liabilities and keeping people out of harm's way." Members of the Glaro Inc. executive staff explain that while laws are in place in most States, many people smoke where they are not permitted to outdoors or indoors. "Cigarettes are not always snuffed properly or disposed off in the right receptacle. That can lead to sparks and fires," says Plant Manager Bob Glass.
Facility managers who care about public safety can mitigate this risk by using fire safe waste receptacles in combination with sprinklers, regular inspections etc. and other fire safety measures, to make sure that their buildings and the people in them stay safe.
Helping buildings stay attractive
Aside from their sturdy construction, Glaro Inc. fire safe trash cans, recycling receptacles and smoking receptacles are known to be decorative, combining the safety and functionality of metal cans with strong visual aesthetics. According to Plant Manager Bob Glass, "Building owners don't need to settle. Glaro Inc. all metal receptacles are attractive and fire resistant, providing benefits to your visitors on both a visual and a safety level. With the variety of colors and finishes available, a customer can have a fire safe receptacle that looks virtually any way he or she would like. These are some compelling reasons customers continue to use Glaro Inc."
If you are looking for fire safe receptacles, contact Glaro at 1-888-234-1050 to find out more information. Glaro also has a full line of smoking receptacles and other waste receptacles that help contain fires. Additional information is available on the Glaro blog located at glaro(dot)biz and its website glaro(dot)com.
About Glaro Incorporated:
Glaro Inc. (glaro.com) is a leading USA manufacturer of commercial and consumer aluminum and steel products sold directly to distributors/dealers for almost 70 years. All products ship in 1 to 3 days. Glaro Inc. products are the result of a focus on thoughtful innovation and design. Product lines include bellman and luggage carts, platform trucks, waste receptacles, recycling receptacles, smokers' posts and receptacles, crowd control posts and systems, safety barriers, signs, sign frames, directories, menu display stands, coat hanging equipment, coat trees, umbrella stands, wet umbrella bag holders, metal planters, and key drop boxes. A diverse selection of models in 31 finishes is produced in the Hauppauge, New York plant by skilled Glaro Inc. craftsmen. The company is known for its quality merchandise and its ability to consistently quick ship all products. The customer service department provides unusually prompt personal service and is sensitive to the needs of dealers and distributors.