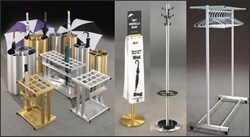 Changing weather patterns seem to be a trend, not a singular event. Our in stock products help buildings stay ahead of the curve for inclement weather. It's a matter of maintaining safety and service levels for building visitors.
Hauppauge, NY (PRWEB) July 30, 2013
Many Glaro Inc. customers have reported unusual weather patterns in their area resulting in excessive rains, heavy snows, tornadoes, and hurricanes. "Changing weather patterns seem to be a trend, not a singular event. Our in stock products help buildings stay ahead of the curve for inclement weather. It's a matter of maintaining safety and service levels for building visitors. It's hard to put a price on that," says Robert Glass, Glaro Inc.'s Plant Manager. In almost any geographical location, harsh weather conditions can strike. "When they do, they can disrupt businesses, create safety and maintenance issues, and even damage buildings that are not properly equipped," says Executive Vice President Robert Betensky of Glaro Inc.
Glaro Inc.'s goal this season is to alert and encourage property managers to be "prepared in advance" and "ready at all times," explains Mr. Betensky. Known as a leading American manufacturer of umbrella stands, wet umbrella bag holders, and coat hanging equipment, Glaro Inc. now shares three product lines that all businesses, hotels, and institutions can use to be proactive and prepared year-round:
Glaro Wet Umbrella Bag Holders
Glaro Inc. wet umbrella bag holders are known to help reduce slip and fall accidents on wet floors. One size fits all poly bags are displayed on attractive stands in key areas. Visitors entering a building with wet umbrellas easily place them into their personal poly bag. Visitors appreciate the efficiency and convenience of this service. Property managers not only avoid liabilities from the time and expense of having to deal with accidents but they also keep floors dry which reduces floor maintenance preserving the life of the flooring. Customers are able to keep their own umbrellas with them and stay dry. Wet umbrella bag holders also keep clothes, floors, and furniture dry.
Glaro Umbrella Stands
Glaro umbrella stands are known to be the finest, most durable rust and tarnish proof solid aluminum stands in the industry. Contemporary and traditional designs in handsome satin aluminum or tarnish-proof satin brass are available in either tubular grid or cylindrical shapes. Attractively designed and finished umbrella stands of varying sizes and capacities help any facility properly organize umbrellas. "These products are all in stock ready to meet high market demand," says Mr. Betensky.
Glaro Coat Hanging Equipment
Glaro Inc. modular wall mounted coat racks and shelving units are the most durable, functional, and versatile products of their kind, converting non functional space into useful and efficient storage areas. Wall mounted or floor standing coat trees (with or without umbrella stands), wardrobe racks, wall mounted coat racks with matching hangers, wall mounted coat hooks and wall mounted shelves keep clothing well organized, off the ground. "They are very popular in coat check rooms where clothing can be kept safe, and they are a great way to keep customer's personal items organized and easily accessible. Especially during inclement weather, customers expect public facilities such as museums, theaters, and restaurants, to name a few, to properly stow their belongings," mentioned Robert Betensky.
All products are in stock, competitively priced and ready for shipment according to Glaro Incorporated executives. Products can be obtained through any authorized Glaro Inc. supplier or distributor. Call 1-888-234-1050 for more information today or visit glaro.com.
About Glaro Incorporated:
Glaro Inc. (glaro.com) is a leading USA manufacturer of commercial and consumer aluminum and steel products sold directly to distributors/dealers for almost 70 years. All products ship in 1 to 3 days. Glaro Inc. products are the result of a focus on thoughtful innovation and design. Product lines include bellman and luggage carts, platform trucks, waste receptacles, recycling receptacles, smokers' posts and receptacles, crowd control posts and systems, safety barriers, signs, sign frames, directories, menu display stands, coat hanging equipment, coat trees, umbrella stands, wet umbrella bag holders, metal planters, and key drop boxes. A diverse selection of models in 31 finishes is produced in the Hauppauge, New York plant by skilled Glaro Inc. craftsmen. The company is known for its quality merchandise and its ability to consistently quick ship all products. The customer service department provides unusually prompt personal service and is sensitive to the needs of dealers and distributors.