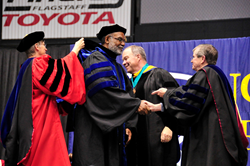 Over the past three years, there have been nearly 3,000 Bachelor's degrees conferred to NAU students with 12 or more credits from the Maricopa Community Colleges and the numbers have increased each year. --Dr. Rufus Glasper, Chancellor of MCCCD
Tempe, AZ (PRWEB) May 14, 2014
Maricopa Community Colleges Chancellor Rufus Glasper has received an honorary degree from Northern Arizona University for his significant contributions to the education of others.
Dr. Glasper addressed graduates at NAU's annual spring commencement ceremony in Flagstaff on Saturday, May 10.
Dr. Glasper has worked for the Maricopa Community Colleges for 28 years, spending the last 11 as Chancellor. A longtime advocate for student success, Dr. Glasper has overseen the development of numerous innovative programs. Under his leadership, Maricopa has developed transfer and articulation programs to State universities.
The partnership between Maricopa Community Colleges and NAU – known as Connect 2 NAU – has grown steadily over the past decade.
In each academic year since 2010-11, there have been 4,000 – 5,000 NAU students at any class level who transferred from a Maricopa Community College. There are roughly 1,500 new Maricopa transfers to NAU each year.
"I'm grateful to receive this honorary degree," said Dr. Glasper. "Over the past three years, there have been nearly 3,000 Bachelor's degrees conferred to NAU students with 12 or more credits from the Maricopa Community Colleges - and the numbers have increased each year. Simply put, the partnership between Maricopa Community Colleges and NAU is stronger than ever."
Rufus Glasper holds a Bachelor's degree in business administration from Luther College (Decorah, Iowa), and a Master's in school business administration from Northern Illinois University. He earned his Doctorate of Philosophy degree in higher education finance from the University of Arizona. Read Dr. Glasper's Biography online at http://www.maricopa.edu/chancellor.
###
The Maricopa County Community College District is an EEO/AA institution and an equal opportunity employer of protected veterans and individuals with disabilities. http://www.maricopa.edu