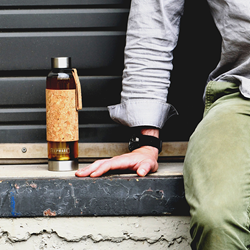 Denver, CO (PRWEB) August 31, 2015
The Tea Spot's handcrafted whole leaf teas can now be enjoyed on-the-go with their new Urban Tea Tumbler. This premium glass tea tumbler provides the convenience of steeping tea on-the-go without sacrificing the natural taste and quality of loose leaf tea. The Tea Spot designed this new Steepware® vessel with avid tea drinkers in mind, allowing people to enjoy premium whole leaf tea when traveling rather than resorting to typically over-processed and substandard teabags.
The Urban Tea Tumbler stands out because of its unique design which incorporates the striking combination of glass, natural cork, and stainless steel in vivid colors—a bold fusion of the natural and the modern. The tumbler's clear glass body showcases the exquisite hues of teas as they brew, from the most delicate white teas to earthy Pu-erhs and rich black teas.
This new product fulfills The Tea Spot customers' requests to make a glass tumbler for loose leaf tea that appeals to modern lifestyles while maintaining refined functionality. The Urban Tea Tumbler can be used year round as it is designed for both hot and cold tea brewing. The tumbler's cork sleeve allows it to be held comfortably whether hot or iced cold, and its insulative technology locks in temperature to preserve flavor and aroma. Since The Tea Spot is committed to producing eco-friendly products, all of their Steepware® products are BPA-free, lead-free, and cadmium-free.
The tumbler's large stainless steel infuser provides ample room for loose leaf tea to expand to its full volume, allowing for the maximal release of flavor. It can be easily removed to allow for specific tea brewing time or can remain in the tumbler for continued steeping throughout the day, ideal for cold brewing. As the tumbler is made of borosilicate glass, it is durable and dishwasher safe. The insulating sleeve is made of natural cork for the coupled purpose of maximum insulation and sleek style. For ease while traveling, the Urban Tea Tumbler enjoys a matching cork strap. Additionally, the brushed stainless-steel lids at both ends increase convenience by allowing for easy cleaning.
The Tea Spot's new Urban Tea Tumbler is now available at the company's online tea store at http://theteaspot.com. The tumbler is available for a retail price of $29.95, with stainless steel accents in Buenos Aires Blue, Vancouver Green, Paris Purple, and Pittsburgh Steel.
About The Tea Spot: The Tea Spot is a leading producer of handcrafted whole leaf teas and the creator of Steepware®—innovative tools that make the premium tea experience effortless and accessible. The company's focus has held steadfast since the for-profit philanthropic company was founded by Maria Uspenski in 2004, a cancer survivor drawn to the health benefits of leaf tea during her recovery. Her message is simple and powerful: tea in its freshest form renders premium flavor, unmatched health benefits, and is eco-friendly. The Tea Spot's philanthropic 10% Pledge incorporates its mission to foster health and wellness through loose leaf tea. Ten percent of the company's sales are donated in-kind to cancer and community wellness programs. The Tea Spot is a Colorado-based Certified B Corporation, woman-owned and operated business. theteaspot.com