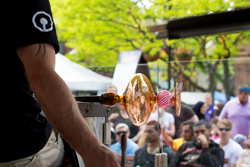 GlassFest is an opportunity for us to celebrate the talents of our past and present Gaffers and to encourage their future artistic endeavors.
Corning, NY (PRWEB) May 01, 2015
Presented by Corning's Gaffer District and Chemung Canal Trust Company, GlassFest kicks off on Thursday, May 21, with a special glass ribbon cutting ceremony held at The Corning Museum of Glass at 5pm, followed by a special edition 2300°: GlassFest party from 6–8pm. The festival continues in Corning's Gaffer District for three more days of live glassmaking demonstrations, glass exhibits and artwork, wine and craft beer tasting, live music, a spectacular fireworks display, family-friendly activities, an 8K race, museums and galleries, and special shopping and dining promotions for the weekend.
Watch live glassmaking demonstrations in the Gaffer District all weekend long featuring regional glass artists and gaffers from The Corning Museum of Glass. Kiva Ford opens on Friday at 12pm with a flameworking demonstration, making glass objects using a 5,000 degree Fahrenheit gas- and oxygen-powered torch. Corning Museum of Glass gaffers will take the stage in the afternoon on Friday, Saturday and Sunday in Centerway Square, dazzling visitors with breathtaking glassblowing demonstrations. See what our visitors have to say!
Mike Wayne, Senior Vice President and Director of Marketing, Chemung Canal Trust Company shares, "We are so fortunate that some of the most talented and respected glass artisans have lived and worked in the southern tier. The rich history of these professionals has left an indelible mark within our community and is worth celebrating. GlassFest is an opportunity for us to celebrate the talents of our past and present Gaffers, and to encourage their future artistic endeavors."
This year, World Kitchen looks to celebrate the 100th anniversary of the Pyrex brand. First developed in Corning in the year 1915, Pyrex brand consumer goods have found use in 80 million American households. To celebrate the occasion, World Kitchen will give away a limited number of special edition Pyrex pie plates to GlassFest attendees who visit the Pine Street store.
The Finger Lakes Wine and Craft Beer Tasting event is Friday night from 5-8pm, featuring more than 25 local wineries and breweries. Tickets are $15 per person, which includes a collectible wine and beer glass. Adults must be 21 years or older to participate.
"GlassFest is one of the most affordable, experience-filled four days people of all ages will enjoy! Visitors will experience outstanding hot glass shows, pottery and raku demonstrations, fantastic music, shopping and dining, fireworks and all in one of the most celebrated and beautiful downtowns in the country. We cannot wait to welcome everyone!" said Coleen Fabrizi, Executive Director of Corning's Gaffer District.
Rock the Park, sponsored by Simmons-Rockwell, is the GlassFest signature concert series on Friday, Saturday and Sunday night. Live music will be in Riverfront Centennial Park all three days featuring regional and national bands, including Kingsfoil on Friday night at 9pm, Mirage, a Fleetwood Mac tribute band from Los Angeles, CA on Saturday at 8:15pm, and on Sunday, Nashville recording artist, Darryl Worley at 3pm. Local bands will perform throughout the day on both Saturday and Sunday.
On Saturday and Sunday, visitors can wander along Market Street for works of art by local and regional artists, and take advantage of special promotions offered by businesses and restaurants in Corning's Gaffer District. Families will enjoy plenty of fun activities including a magician, face painting, inflatables, a spectacular fireworks display Saturday night and much more.
At The Corning Museum of Glass, visitors can explore the newly opened Contemporary Art + Design Wing, which includes a new 26,000-square-foot contemporary art gallery building, the largest space dedicated to the presentation of contemporary art in glass. Adjacent to this new gallery is a renovated historic glass factory ventilator building that contains one of the world's largest facilities for glassblowing demonstrations and live glass design sessions, with 500 seats. Special classes are offered in the Museum's Studio, and visitors (ages 14 and up) can sign up for a special Make Your Own Glass vase experience, offered this weekend only.
GlassFest is proudly sponsored by Chemung Canal Trust Company, Simmons-Rockwell, World Kitchen, Corning Enterprises, WETM 18, the Radisson Hotel Corning, Guthrie Corning Hospital, and Corning Museum of Glass.
###
Corning's Gaffer District
Corning's Gaffer District is an historic downtown business community with restaurants, retail, services and more. Explore the downtown and see why Corning was proudly named "Most Fun Small Town in America" by Rand McNally's Best of the Road in 2013. Visit Historic Market Street - one of the American Planning Association's "Great Places in America" and celebrate GlassFest - named by the American Bus Association as one of the Top 100 Events in North America for 2014 and 2015. Come visit us and see why we're famous. We're more than just brick sidewalks and little white lights...we're America's Crystal City!
For More Information
Stephanie Miller, Director of Marketing & Communications
Corning's Gaffer District
(607) 973-0062