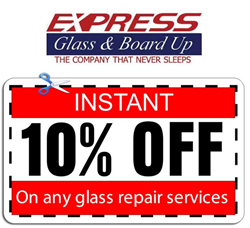 Now that we are in the first month of 2016, people are starting to check items off of their New Year's Resolutions lists
Fort Lauderdale, FL (PRWEB) January 14, 2016
Express Glass of Fort Lauderdale, a top glass repair service, has announced a coupon extension for the upcoming MLK (Martin Luther King, Jr.) holiday weekend. It is a good time to check off New Year's resolutions for glass repair and sliding glass door replacement.
"Now that we are in the first month of 2016, people are starting to check items off of their New Year's Resolutions lists," Commented Yaniet Santos, General Manager of Express Glass. "That is why we have extended our 10% glass repair coupon through the MLK holiday weekend. For new or returning customers, it's a great time to mark glass repair and replacement off the checklist."
To learn more about Express Glass, Ft. Lauderdale 10% glass repair coupon go to; http://www.expressglassfl.com/west-palm-beach-glass-window-repair/. Information about glass repair, sliding glass door replacement and 24/7 emergency glass repair can be found. For the 10% coupon offer, customers are encouraged to click on the big red link at the top of most pages on the website.
Fort Lauderdale Marks Glass Repair off of the New Year's Resolution List for the MLK Weekend
Searching for the best deal when reviewing New Year tasks can be a priority to budget-wise Fort Lauderdale locals. Florida residents may have added glass repair and replacement to the 2016 resolution list. Jammed sliding glass doors and broken windows could have occurred during the hectic holiday season in homes, shops and restaurants. Finding deals, including affordable glass repair coupons may become the first task to complete.
Express Glass of Fort Lauderdale has announced a 10% coupon extension for glass repair through the Martin Luther King holiday weekend. A three-day weekend provides Florida locals an extra day to plan for glass repair and replacement for sliding glass doors and windows. Glass repair coupons offer the budget-wise incentive homeowners and businesses search for. Express Glass has made it easier for Florida locals to check glass repair off of the New Year's resolution list.
About Express Glass Repair and Board Up
Express Glass and Board Up Service Inc. is a family owned and operated glass repair business with more than 20 years of experience. Their professional technicians and the large variety of inventory make Express Glass the top glass repair service. If customers are looking for Fort Lauderdale glass repair or glass repair coupons as well as Miami and Lake Worth, Florida, glass repair, please reach out to the company for a free estimate. Glass repair coupons include; 24/7 emergency glass repair, sliding glass door repair service and window repair and replacement for homes and businesses. Express Glass professionals will handle any glass replacement situation efficiently. Home or business glass repair is the company's main priority.
Express Glass Repair and Board up
http://www.expressglassfl.com/