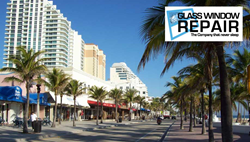 When windows and sliding glass doors break, it's not always during the hours of nine to five, or during the non-holiday period
Fort Lauderdale, FL (PRWEB) December 23, 2016
December 23, 2016 Fort Lauderdale, FL
Express Glass (http://www.expressglassfl.com), a Fort Lauderdale glass repair service known for prompt response time, is proud to announce a new blog about the importance of being available for after-hours emergencies. Many competitors confusingly use answering services and just pretend to be open during the holiday period, while Express Glass & Board Up will truly be open. The new post is an important public service announcement for December.
"When windows and sliding glass doors break, it's not always during the hours of nine to five, or during the non-holiday period," explained Yaniet Santos, general manager of Express Glass. "This means it's not convenient for many businesses. But our belief is that we don't do what's convenient for us, we do what's best for the community. As competitors are confusing customers with answering services and other gimmicks, we wanted to alert our customer base that we're not just pretending to be open during the holidays. We are actually open."
To review the new blog post for Fort Lauderdale glass repair and hourly service options for December, 2016, please visit: http://www.expressglassfl.com/blog/24-hours-glass-repair/fort-lauderdale-glass-repair-bankers-hours-24-hours/.
Glass repair emergency service can be found after hours for Florida residents. 24 hour service includes evenings, weekends and holiday hours. Information specific to Fort Lauderdale Glass repair can be found at http://www.expressglassfl.com/fort-lauderdale-glass-window-repair/.
Fort Lauderdale Glass Repair and 24 Hours vs. Bankers Hours
Many companies may tout the importance of customer service, but the reality can look quite different. A majority of Fort Lauderdale businesses tend to operate during 'bankers hours', from nine am to five pm. For some services, such a short-sighted approach may not serve the community best. If a tree falls on a house at 9pm on a Saturday, the homeowner can be in trouble. Not only could a home be vulnerable to weather and crime, it can threaten the safety of a family. The homeowner may struggle alone to secure the property until a business is open Monday morning. Waiting until banker's hours to solve an emergency may not be ideal. Real customer service in Fort Lauderdale can mean doing what is best for the community instead of what is easy for a business. The analogy includes glass repair.
Express Glass, an expert glass repair service in Fort Lauderdale has recently released a new post about banker's hours vs. 24 hours, just in time for the holiday period. Businesses offering support for emergency situations must be aware accidents happen. Normal glass repair issues can be scheduled and managed within a normal workday, but emergency glass repair can happen at any time. If a window or patio door shatters at a home or business, waiting to secure a home until banker's hours might not be the best option for a customer. Criminals and stormy weather may be nearby to cause more damage. Quick 24 hour service can be the first choice for Fort Lauderdale residents in need of emergency glass repair after bankers have left the office.
About Express Glass Repair and Board Up
Express Glass and Board Up Service Inc. is a family owned and operated glass repair business with more than 20 years of experience. Their professional technicians and the large variety of inventory make Express Glass the top glass repair service. If customers are looking for Ft. Lauderdale glass repair or Miami glass repair as well as glass repair in Delray Beach or West Palm Beach glass repair, please reach out to the company for a free estimate. If customers need a 24/7 Sliding Glass Door repair service in Ft. Lauderdale or Boca Raton or Miramar, technicians are standing by. The company specializes in sliding glass door repair and window glass repair; technicians will handle any glass replacement situation efficiently. Home or business glass repair is the company's main priority.
Express Glass Repair and Board up
http://www.expressglassfl.com/