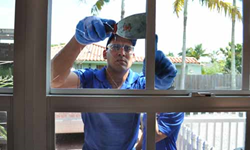 One size does not fit all in the glass repair business
Fort Lauderdale, FL (PRWEB) August 17, 2016
As part of a major website 'reboot' effort, Glass Window Repair Service (GWR Glass Repair) is proud to announce a new informational page on the topic of being the best glass repair service in Fort Lauderdale. With confusing alternatives among auto, home, and residential glass repair as many national vs. local chains, the company thought it wise to create a page on its philosophy as a local Fort Lauderdale glass repair company.
"One size does not fit all in the glass repair business," explained Yaniet Santos, General Manager of GWR. "However, many customers come to us quite confused about how to select the best glass window repair company in Ft. Lauderdale, and so, as part of our website restructuring project, we created a succinct summary of what best means to us as a glass company."
To read the new page, visit http://glasswindowrepair.com/glass-repair/. There in addition to aspects of the company's philosophy of being excellent in the glass business, one can click up to major sections of the website and learn about service offerings. As the website 'reboot' is rolled out, interested parties are urged to bookmark the site and check back frequently. For example, a new page on glass window repair as a specific topic can be found at http://glasswindowrepair.com/glass-window-repair/.
Glass Window Repair and Being the Best in Fort Lauderdale
What does, "Being the best does not mean one size fits all," mean in terms of the glass business? The new page explains, for example, that the company services both businesses and homes in Ft. Lauderdale and that being the 'best' for a business is different than being the 'best' for a homeowner. Similarly, one of the most common glass issues is the dilemma between repairing vs. replacing a sliding glass door. While replacements can seem expensive, sometimes it is in the homeowner's best interests. At other times, however, simple repairs can extend the life of a sliding glass door. The company's commitment to superior service means giving no cost estimates on repairs or replacements, and helping the customer to decide what is best for them, whether that be a complete replacement or a minor repair. Again, interested parties should visit the website to learn more about the company philosophy in terms of superior customer service as a glass repair shop.
About GWR Services
Glass Windows Repair Services (GWR) is a local business situated in Fort Lauderdale. While not focusing on auto glass repair or the very common repair of iPhones, the company has established itself as one of the most highly respected Fort Lauderdale glass repair services. Among services offered are sliding glass door repair or replacements, as well as home window repair for residential customers and door or window replacement or repair services for area business customers.
GWR Services, Media Relations
http://glasswindowrepair.com/