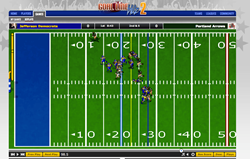 "We make games we love to play, and we hope you love playing them too," Jesse Leineweber, Cofounder of Warrior General Games.
Portland, Oregon (PRWEB) January 03, 2014
Goal Line Blitz 2 offers a wide variety of content for new and returning Goal Line Blitz football players. Features include a new player combine, new player skills and attributes, pick-up games for instant play, improved graphics, and unlockable achievements for you to collect as you watch your player grow from a rookie to a seasoned veteran. The game also includes a new class of player, Superstar, which will be awarded to the most dedicated players. As with Goal Line Blitz classic, every user is granted one completely free player that they can build, compete with, and retire as many times as they would like.
Players can now sign up to play Goal Line Blitz 2 via the game's official website (glb2.warriorgeneral.com) The original Goal Line Blitz is still supported so players can continue to play the classic version of the game as well! (glb.warriorgeneral.com)
Warrior General Games (http://www.warriorgeneral.com) is a small gaming company based in Portland, Oregon. They were founded in 2008 with the launch of their browser-based American Football game, Goal Line Blitz. Warrior General is the brainchild of two friends and gamers and its team of developers have more games in production with launches set for 2014.