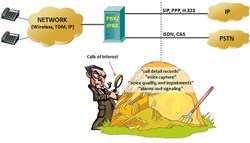 GL's Call Detail Records (CDR) Analysis System supports call capture on any network type, such as TDM, IP, or Wireless and almost all industry standard protocol types - SIP, H.323, ISDN, SS7, CAS, and more
Gaithersburg, Maryland, (PRWEB) August 06, 2013
GL Communications Inc., a leader in providing PC-based test, analysis and simulation products and consulting services to the worldwide telecommunications industry, announced today its enhanced Call Data Records Analysis system.
Speaking to media persons, Mr. Jagdish Vadalia a Senior Manager for Product Development of the company said, " GL's enhanced Call Detail Records (CDR) Analysis application captures practically every call and every "aspect" of every call - allowing detailed examination of why a call or calls had issues. Auxiliary tools such as PacketScanWeb™, NetSurveyorWeb™, and Excel® Addins, allows easy search based on any "unique feature, aspect, or parameter" of calls - even among hundreds of thousands of calls. It supports call capture on any network type, such as TDM, IP, or Wireless and almost all industry standard protocol types - SIP, H.323, ISDN, SS7, CAS, and more.
Problems that occur in voice communication such as echo, noise and signal issues like no ringing or no ringback, no call connection impel telecom engineers to have data to analyze "why such a problem occurred", but the volume of calls presents a needle in a haystack condition. Fortunately, GL's CDR Analysis System is designed for just such conditions. By capturing all calls and all events (including voice quality) during the call, the CDR Analysis System allows one to understand and analyze the captured call detail records, troubleshoot call failures, and provide insight into overall performance."
Mr.Vadalia further added, " GL's Call Data Analysis system provides capturing of all calls and all events for extended periods of time from hours to months, Search for "calls of interest" while live capturing continues, Drill-down to problem calls for post analysis, Monitor daily operations thru call statistics, Analyze and identify customer and employee calling patterns and Monitor usage of trunks on a daily or weekly basis."
About GL Communications Inc.,
Founded in 1986, GL Communications Inc. is a leading supplier of test, monitoring, and analysis equipment for TDM, Wireless, IP and VoIP networks. Unlike conventional test equipment, GL's test platforms provide visualization, capture, storage, and convenient features like portability, remotability, and scripting
GL Communications has over the years worked with major telecom equipment vendors (EVs) and system integrators to meet the testing requirements arising at various stages of telecommunications product development life cycle.
With its proven expertise of over 25 years, GL has a comprehensive suite of telecom testing solutions to verify and ensure 'quality and reliability' of variety of telecom networks including Wireless, and high-speed fiber optic lines.
GL's test tools range from simple PC-based software test tool to all-encompassing hardware units with futuristic expansion capabilities. GL's test solutions cover wide array of networks – 4G (LTE), 3G, IP, Ethernet, T1, T3, E1, E3, OC-3/STM-1, OC-12/STM-4, and traditional PSTN networks.
GL's tools are widely used by the telecommunication industry for conformance testing, automated stress/load testing, performance testing, remote accessibility, centralized web-based control and analysis, fault testing and analysis, and customized testing.