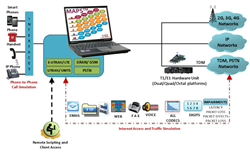 MAPS™ platform has been enhanced to run as a true 64-bit application.New Test Automation process, Randomized Call Timers, Dynamic IP and IP Spoofing,Muticore Processing and many such features makes MAPS™ an invaluable tool.
Gaithersburg, Maryland (PRWEB) July 21, 2014
GL Communications Inc., announced today the release of its enhanced Protocol Simulation and Conformance Test Tool referred to as Message Automation & Protocol Simulation (MAPS™) platform.
Speaking to the press, Mr. Karthik Ramalingam Manager Product Development of the company said, "GL's Message Automation & Protocol Simulation (MAPS™) is a protocol simulation and conformance test tool that supports a variety of Wireless, IP, and TDM protocols such as SIP, MEGACO, MGCP, SS7, ISDN, GSM, MAP, CAS, LTE, UMTS, SS7 SIGTRAN, ISDN SIGTRAN, SIP I, GSM AoIP, Diameter and many others. MAPS™ tool covers solutions for both protocol simulation and protocol analysis. The application includes various test plans and test cases to support the testing of real-time entities. Along with automation capability, the application gives users the unlimited ability to edit messages and control scenarios (message sequences). "Message sequences" are generated through scripts."
He added, "MAPS™ platform has been enhanced to run as a true 64-bit application (this support covers IP, 2G, 3G and 4G protocols and excludes TDM protocols for now). The 64-bit version is introduced to enhance the signaling simulation performance to overcome the limitation of only 2 GB application memory in 32-bit processors."
Newly introduced scheduler feature helps user to automate the testing process. User can schedule the Load Generation, Call Generation and Call Reception at a specific start time. It uses the Master Configurations which contains pre-saved Test bed, Call Generation, and Load Generation configurations. Scheduler automatically loads the defined Master Configuration and executes the tests at scheduled time and duration.
There are several script based functions introduced to improve the test process. Test results such as Total Number of Calls Placed, No Failed calls, No Passed Calls, CPS, Memory utilized etc are accessible to scripts and are sent to database and can be accessed via web interface. This allows user to monitor and analyze test from remote places. User can also customize the results.
User can generate and log customized reports directly from within the scripts for Error Events, Captured Errors, Call flow in PDF Format.
New style of Call Control scripting is introduced, which includes parent and child scripts along with sub scripts to handle complete call control procedures and traffic simulation. The call control scripting allows controlling multiple protocols independently, and makes multi-interface simulation easy.
Randomized Call Timers are introduced by which Call & Inter Call Duration can be randomized using various statistical distributions such as Normal, Uniform etc.
Dynamic IP/IP Spoofing process helps in adding or creating IP address to generate each call with different IP address from a single system which gives multihoming capability.
Multi-Core Processor Support feature helps in achieving improved performance. Each core initializes a protocol engine and contributes in enhancing the performance. For example, in MAPS™ SIP, user can generate signaling procedures at 250 CPS and 12000 simultaneous calls with single core and 1300 CPS and 70000 simultaneous calls with 6 cores.
Scripts are enhanced to detect MTP and SCTP link status. On Link Down status all running scripts will stop and no new scripts will be executed.
Signaling profiles have been updated with Enable Traffic option which provides the user to select specific traffic profiles like IVR, User-defined, Auto-Traffic File, Auto-Traffic Digits, Auto-Traffic Tones, and Codec options. The auto traffic profiles handle traffic automatically over established calls and the user-defined traffic profiles needs user intervention to initiate the traffic over established calls.
Statistics provides vital information in terms of Call Statistics and Message Statistics and message statistics provides number of Tx and Rx Message Counts and call statistics displays tabs for each call graph charts with 50:50 ratio with respect to window size."
Mr. Ramalingam further added, "There are also enhancements introduced to individual protocols that include MAPS™ SIGTRAN Based Applications, MAPS™ GERAN and UTRAN Based Applications, MAPS™ E-UTRAN and MAPS™ VoIP based Applications. And these enhanced features add significant value to MAPS™ Platform from the user perspective."
About GL Communications Inc.
Founded in 1986, GL Communications Inc. is a leading supplier of test, monitoring, and analysis equipment for TDM, Wireless, IP and VoIP networks. Unlike conventional test equipment, GL's test platforms provide visualization, capture, storage, and convenient features like portability, remotability, and scripting.
GL Communications has over the years worked with major telecom equipment vendors (EVs) and system integrators to meet the testing requirements arising at various stages of telecommunications product development life cycle. With its proven expertise of over 25 years, GL has a comprehensive suite of telecom testing solutions to verify and ensure 'quality and reliability' of variety of telecom networks including Wireless, and high-speed fiber optic lines.
GL's test tools range from simple PC-based software test tool to all-encompassing hardware units with futuristic expansion capabilities. GL's test solutions cover wide array of networks – 4G (LTE), 3G, IP, Ethernet, T1, T3, E1, E3, OC-3/STM-1, OC-12/STM-4, and traditional PSTN networks.
GL's tools are widely used by the telecommunication industry for conformance testing, automated stress/load testing, performance testing, remote accessibility, centralized web-based control and analysis, fault testing and analysis, and customized testing.