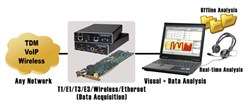 GL's Remote Protocol Analyzers are available as optional software. Functionally, they are similar to real-time protocol analyzers that are integrated with T1 E1 Analyzers.
Gaithersburg, MD (PRWEB) August 01, 2013
GL Communications Inc. a leader in providing PC-based test, analysis and simulation products and consulting services to the worldwide telecommunications industry, announced today its enhanced Remote Network Protocol Analysis functionality.
Speaking to media persons, Mr. Vijay Kulkarni CEO of the company said, " "Remote Protocol Analyzer" or RPA functionality is an extension of the feature rich capability available with GL's GUI based Protocol Analyzers. GL's Remote Protocol Analyzers are available as optional software. Functionally, they are similar to real-time protocol analyzers that are integrated with T1 E1 Analyzers."
He added, "HDLC based protocols such as ISDN, SS7, GR303, Frame Relay, V5.x and others can be monitored remotely via a set of hardware and software features available with our T1 or E1 based protocol analyzers. The RPA functionality permits: unattended and 24/7 operation, remote accessibility for difficult connection situations, remote non-intrusive operation, and remote detailed diagnostic capability.
Pre-requisites of the remote functionality at the site monitoring are: Dual T1 E1 PCI based cards or USB based T1 E1 units, T1 E1 Server software with HDLC capture software. And at the client location pre-requisites are: Appropriate GUI based "Remote Protocol Analyzer" such as ISDN, SS7, and others – licensed via "Dongle", LAN/WAN TCP/IP Network with sufficient bandwidth to transport HDLC frames."
Important Features:
·Client side consists of a PC with Ethernet connectivity and GUI Remote Protocol Analysis software – no special T1 or E1 hardware is required.
·Multiple T1 E1 servers may be simultaneously connected to a single remote client using a single GUI.
·Multiple remote clients may access a single T1 E1 server. Also, the T1 E1 server is fully functional while being accessed as a server. Thus, a user may perform T1 E1 operations locally on the server while a remote client is accessing the same server, in real time.
·Supports real-time and offline analysis at the remote client location.
·Remote analyzers support capturing of encapsulated protocols and long frames.
·Common filtering criteria can be set for T1 E1 cards located on multiple servers.
About GL Communications Inc.,
Founded in 1986, GL Communications Inc. is a leading supplier of test, monitoring, and analysis equipment for TDM, Wireless, IP and VoIP networks. Unlike conventional test equipment, GL's test platforms provide visualization, capture, storage, and convenient features like portability, remotability, and scripting
GL Communications has over the years worked with major telecom equipment vendors (EVs) and system integrators to meet the testing requirements arising at various stages of telecommunications product development life cycle.
With its proven expertise of over 25 years, GL has a comprehensive suite of telecom testing solutions to verify and ensure 'quality and reliability' of variety of telecom networks including Wireless, and high-speed fiber optic lines.
GL's test tools range from simple PC-based software test tool to all-encompassing hardware units with futuristic expansion capabilities. GL's test solutions cover wide array of networks – 4G (LTE), 3G, IP, Ethernet, T1, T3, E1, E3, OC-3/STM-1, OC-12/STM-4, and traditional PSTN networks.
GL's tools are widely used by the telecommunication industry for conformance testing, automated stress/load testing, performance testing, remote accessibility, centralized web-based control and analysis, fault testing and analysis, and customized testing.