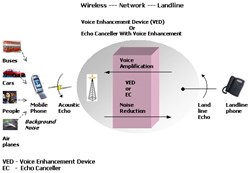 The software tests the functionality of the voice enhancement devices per G.160 standards.
Gaithersburg, Maryland (PRWEB) August 15, 2013
GL Communications Inc. a leader in providing PC-based test, analysis and simulation products and consulting services to the worldwide telecommunications industry, announced today its enhanced Voice Enhancement and Voice Quality Testing Software.
Speaking to media persons, Mr. Robert Bichefsky Senior Manager for Product Development of the company said, "Voice Enhancement and Voice Quality Test software is designed to test the functionality of the voice enhancement devices per G.160, including the voice improvement tests per P800/P861/P862, noise reduction tests, automatic level control tests, and noise compensation tests. VQT (voice quality test) parameters, PESQ, PAMS, PSQM, etc., are graphically presented to display test results."
He added, "There are four (4) tests needed to fully evaluate the characteristics of voice enhancement devices. These tests are: NR (noise reduction) tests for the receive path, NC (noise compensation) tests for the send path, ALC (automatic level control) tests for the receive path, and ALC for the send path."
Mr. Bichefsky further added, "The NR tests are designed in way that two VQT (voice quality tests) are performed. VQT1 is the voice quality test between the reference file, and the degraded file. Degraded files are obtained by added noise to the reference file. VQT2 is performed between the Rout (the voice enhancement devices improved signal) and the reference file. The NR performance is evaluated by comparing the VQT 1 score with the VQT 2 score. The noise compensation NC tests are evaluated by the Sout signal power versus the noise power signals. The ALC tests are evaluated by the Sout (or Rout) signal power versus Sin (or Rin) power levels."
About GL Communications Inc.,
Founded in 1986, GL Communications Inc. is a leading supplier of test, monitoring, and analysis equipment for TDM, Wireless, IP and VoIP networks. Unlike conventional test equipment, GL's test platforms provide visualization, capture, storage, and convenient features like portability, remotability, and scripting
GL Communications has over the years worked with major telecom equipment vendors (EVs) and system integrators to meet the testing requirements arising at various stages of telecommunications product development life cycle.
With its proven expertise of over 25 years, GL has a comprehensive suite of telecom testing solutions to verify and ensure 'quality and reliability' of variety of telecom networks including Wireless, and high-speed fiber optic lines.
GL's test tools range from simple PC-based software test tool to all-encompassing hardware units with futuristic expansion capabilities. GL's test solutions cover wide array of networks – 4G (LTE), 3G, IP, Ethernet, T1, T3, E1, E3, OC-3/STM-1, OC-12/STM-4, and traditional PSTN networks.
GL's tools are widely used by the telecommunication industry for conformance testing, automated stress/load testing, performance testing, remote accessibility, centralized web-based control and analysis, fault testing and analysis, and customized testing.