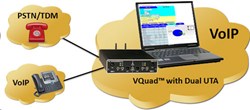 Used in conjunction with GL's VQuad™ software application, the Dual UTA simplifies end-to-end testing of voice quality, echo, noise, and other impairments of TDM, VoIP, and Wireless networks.
Gaithersburg, Maryland (PRWEB) July 21, 2013
GL Communications Inc. a leader in providing PC-based test, analysis and simulation products and consulting services to the worldwide telecommunications industry, announced today Testing Voice Quality, Echo and Other Impairments of TDM, VoIP, and Wireless Networks.
Speaking to media persons, Mr. Vijay Kulkarni CEO of the company said, "Voice quality testing within VoIP and PSTN networks is growing, a major concern is testing the VoIP phones and the analog Telephone Adaptors (ATA) that will be used within the VoIP/PSTN networks. The VoIP phones and ATA's must be free of noise and other hindrances that may cause a degraded voice quality when using this equipment. The GL VQuad™ software combined with GL's Voice Quality Testing (VQT) software permits this desired VQT testing, of the VoIP equipment, yielding results that include PESQ/PAMS/PSQM+ Mean Opinion Scores (MOS). These results provide an excellent overall measure of voice quality of the equipment under test."
He added, "GL's Dual Universal Telephony Adapter (Dual UTA) is a comprehensive hardware device designed to interface and test the voice quality of telecommunication networks. The Dual UTA features all the circuitry necessary to universally adapt to any telephony instrumentation, such as standard Plain Old Telephone Systems (POTS), digital hybrid interfaces, Voice over Internet Protocol (VoIP) networks, wireless cellular phones and mobile radios including devices that utilize Bluetooth® technology."
Mr. Kulkarni further added, "Used in conjunction with GL's VQuad™ software application, the Dual UTA simplifies end-to-end testing of voice quality, echo, noise, and other impairments of TDM, VoIP, and Wireless networks. A GPS sync port permits precise synchronization of sending and receiving audio functions, one-way delay (OWD), and round trip delay (RTD). The Dual UTA can be directed to automatically send and record sample voice files between nodes of a telephony network. These files can then be submitted to GL's Voice Quality Testing (VQT) software application for analysis according to widely accepted International Telecommunications Union (ITU) voice comparison algorithms. These algorithms include PESQ, PAMS and PSQM."
Important Features:
·Connect to any phone with a handset
·Test VoIP, Analog and Digital Phones, thus allowing VoIP ATA testing
·Up to two Dual UTA's connected to a single VQuad system.
·Round Trip Delay and One Way Delay Measurements as well as Echo Measurements
·Automatic send/receive of voice files over already established calls
·Time/Digit/Tone triggering of send/receive voice files.
·Compact and portable solution for testing end-to-end voice quality
·Synchronized software for sending/recording of voice files at multiple locations
·Flexible architecture and features for recording locations, parameters, and time
·GL VQT Automatic Mode allows automatic execution of the VQT algorithms (PESQ LQ/LQO/WB).
·Additional measurements include Clipping, Jitter, Latency, Noise and Signal Levels.
·Results available in real-time or post-processing
About GL Communications Inc.,
Founded in 1986, GL Communications Inc. is a leading supplier of test, monitoring, and analysis equipment for TDM, Wireless, IP and VoIP networks. Unlike conventional test equipment, GL's test platforms provide visualization, capture, storage, and convenient features like portability, remotability, and scripting.
GL Communications has over the years worked with major telecom equipment vendors (EVs) and system integrators to meet the testing requirements arising at various stages of telecommunications product development life cycle.
With its proven expertise of over 25 years, GL has a comprehensive suite of telecom testing solutions to verify and ensure 'quality and reliability' of variety of telecom networks including Wireless, and high-speed fiber optic lines.
GL's test tools range from simple PC-based software test tool to all-encompassing hardware units with futuristic expansion capabilities. GL's test solutions cover wide array of networks – 4G (LTE), 3G, IP, Ethernet, T1, T3, E1, E3, OC-3/STM-1, OC-12/STM-4, and traditional PSTN networks.
GL's tools are widely used by the telecommunication industry for conformance testing, automated stress/load testing, performance testing, remote accessibility, centralized web-based control and analysis, fault testing and analysis, and customized testing.