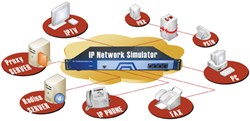 GL's WAN (or IP) Test Platform IPNetSim™ available at varying capacities from 100 Mbps copper or SFP, 1 Gbps 8 Gbps Copper or SFP, or up to 40 Gbps with Dual Rate 1 Gbps/10 Gbps SFP+ interfaces.
Gaithersburg, Maryland (PRWEB) September 13, 2013
GL Communications Inc., a leader in providing PC-based test, analysis and simulation products and consulting services to the worldwide telecommunications industry, announced today its WAN (or IP) Test Platforms.
Speaking to media persons, Mr. Vijay Kulkarni, CEO of the company said, "GL's WAN (or IP) Test Platform IPNetSim™ available at varying capacities from 100 Mbps copper or SFP, 1 Gbps 8 Gbps Copper or SFP, or up to 40 Gbps with Dual Rate 1 Gbps/10 Gbps SFP+ interfaces."
He added, "The IPNetSim™ with the 1Gbps (IPN400) configuration offers 8 Gigabit Ethernet port (8 RJ-45 copper, 8 SFP, or 4 of each), with an Max Aggregate Throughput of 8, making it ideal for both multi-link configurations and multi-user labs. The compact 1U-sized appliance includes both copper and modular fiber/copper Gigabit Ethernet interfaces."
"The new IPNetSim™ IPN600 series (IPN601 -1 Gbps Model / IPN610 - 10 Gbps Model ) offers 1 or 10 Gbps dual rate capability with four dual rate 1/10 Gbps SFP+ ports, supporting both 10 Gbps SFP+ and 1 Gbps SFP. With a capacity of up to 4 or 40 Gbps, the IPNetSim™ IPN600 series Network Emulator can simulate two separate 10 Gbps (or 4 Gbps) full-duplex links."
"GL also provides handheld variation of IPNetSim™, IPNetSim™ Handheld, which is a portable battery operated instrument that can simulate the real-time IP and Carrier Ethernet network dynamics by means of hardware controlled packet delay, loss, jitter, errors, bandwidth limitations, congestion, and duplication."
"GL's IPNetSim™ Handheld offers to manage network behaviors of up to 1 Gbps rates with accuracy always better than 1ms. It is equipped with hardware based impairments generator, and dual GbE ports."
Mr.Kulkarni further added, "The IPNetSim™ emulates a WAN (wide area network) link between two local networks. It can be used to test IP end point devices such as Gateways, IADs, IP phones, Soft phones, and so on for voice, fax, data, or multimedia transmission over IP."
"The IPNetSim™ offers an efficient and economical way to emulate terrestrial, wireless, internet, satellite, or private network links to validate and troubleshoot networks and applications under a spectrum of real-world conditions. Through an intuitive, browser-based graphical interface, you can install the IPNetSim™ and begin testing within minutes."
About GL Communications Inc.,
Founded in 1986, GL Communications Inc. is a leading supplier of test, monitoring, and analysis equipment for TDM, Wireless, IP and VoIP networks. Unlike conventional test equipment, GL's test platforms provide visualization, capture, storage, and convenient features like portability, remotability, and scripting
GL Communications has over the years worked with major telecom equipment vendors (EVs) and system integrators to meet the testing requirements arising at various stages of telecommunications product development life cycle.
With its proven expertise of over 25 years, GL has a comprehensive suite of telecom testing solutions to verify and ensure 'quality and reliability' of variety of telecom networks including Wireless, and high-speed fiber optic lines.
GL's test tools range from simple PC-based software test tool to all-encompassing hardware units with futuristic expansion capabilities. GL's test solutions cover wide array of networks – 4G (LTE), 3G, IP, Ethernet, T1, T3, E1, E3, OC-3/STM-1, OC-12/STM-4, and traditional PSTN networks.
GL's tools are widely used by the telecommunication industry for conformance testing, automated stress/load testing, performance testing, remote accessibility, centralized web-based control and analysis, fault testing and analysis, and customized testing.