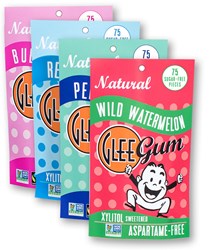 We believe in consumers' right to know when GMOs are in their food.
Providence, RI (PRWEB) October 02, 2013
Manufacturer Verve, Inc. is delighted to announce its full line of Glee Gum as the world's first Non-GMO Project Verified chewing gum. This achievement highlights the company's continued commitment to provide high quality, natural products. And it happily coincides with the introduction of a new flavor, Wild Watermelon, a new pack size of convenient 75-piece pouches, and the national celebration of Non-GMO Month this October.
GMOs, or "genetically modified organisms," are plants or animals that have been genetically engineered with DNA from bacteria, viruses, and other animals and plants. These experimental combinations of genes cannot occur in nature and have not been proven safe. Non-GMO Project Verification signifies that all flavors of Glee Gum have been produced in compliance with the Non-GMO Project Standard—following rigorous best practices for GMO avoidance, including segregation and traceability to prevent contamination.
"We believe in consumers' right to know when GMOs are in their food," Verve president and founder Deborah Schimberg explains. "And we hope that the US will join the 60-plus other countries around the world that require labeling. In the meantime, it was important to our company and our customers to seek Non-GMO Project Verification. We're thrilled to receive it, and consider it another great reason to feel good about chewing Glee Gum."
The grassroots movement for GMO labeling continues to gain momentum. A 2012 Mellman Group poll found that 91% of American consumers wanted GMOs to be labeled. When California's Proposition 37 was narrowly defeated at the polls last year, the public outcry raised further awareness and strengthened resolve. Washington voters get a chance to weigh in this November with Initiative 522, and 25 other states have pending bills or ballot initiatives to label GMOs. Since October 2011, Glee Gum has been a proud partner of the Just Label It! campaign, calling for the mandatory labeling of genetically engineered food. Receiving Non-GMO Project Verification marks an important step in the brand's active support of this hot-button issue.
Unlike most gum on the market, Glee Gum contains no artificial flavors, colors (like Blue 2 Lake or Red 40), sweeteners (like Aspartame or Acesulfame K), or preservatives (like BHT). It's the only gum in North America made with chicle, a tree sap harvested sustainably to help conserve the rainforest. Six classic flavors are sweetened with Fair Trade cane sugar and brown rice syrup, while three kinds of sugar-free Glee use 100% xylitol for added dental benefits. Glee Gum is sold in recycled cardboard packs of 16 pieces (SRP $1.09), and in new, resealable and recyclable pouches of 75 pieces (SRP $4.99). Non-GMO Project Verification of the full line makes it easier than ever to chew, share, and spread the Glee, naturally.
THE NON-GMO PROJECT is a non-profit organization committed to preserving and building sources of non-GMO products, educating consumers, and providing verified non-GMO choices. It offers North America's only third party verification and labeling for non-GMO (genetically modified organism) food and products. Learn more at NonGMOProject.org.
VERVE, INC., maker of Glee Gum, is an independent, certified woman-owned business, dedicated to creating environmentally and socially responsible products. Verve produces Glee Gum, a natural chewing gum sold throughout the US and Canada at stores like Whole Foods and Cost Plus World Market, as well as a line of natural, educational Make Your Own Candy Kits for kids. For more details & store locations where Glee Gum can be found, visit GleeGum.com.
# # #