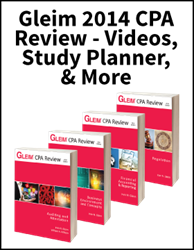 Our study planner will give candidates more control over their study plans and enable them to more effectively reach their goals. - Dr. Gleim
Miami, FL (PRWEB) December 11, 2013
The 2014 edition of the Gleim CPA Review System is now available with many of the changes and improvements CPA exam candidates asked for. For the first time ever, Gleim CPA FAR will include the instructor videos series, Gleim Instruct. These videos feature Dr. Passard Dean, Associate Professor of Accounting at Saint Leo University. Dr. Dean will cover the most important topics and lead candidates step-by-step through multiple-choice questions. This feature went live on December 9, 2013, and, because this video series is in beta, candidates who purchase or qualify for continued access to the 2014 CPA FAR Review System will receive the videos absolutely free.
CPA Candidates have access to the new study planner in the Gleim Online course, beginning December 9th. The study planner is intuitive and works hand-in-hand with the Gleim course. Strong and weak areas will be highlighted on the calendar, as well as important dates and other key details. Personal Counselors are also available to assist candidates with plans and offer exam support. The new Gleim Test Prep functionality, which allows for quick, direct access to the appropriate section of the Gleim CPA Review book when working with the questions in Study Mode was also released on December 9th.
View the 2014 edition of Gleim CPA Review here.
CPA candidates planning to take any section during the 2014 testing windows will receive the most value from working with the 2014 edition of the Gleim CPA Review System. Gleim's expertly authored materials have been updated with the new Clarity Standards, COSO changes, and tax laws. These updates allow CPA exam candidates to prepare with the assurance that they have the most current material available.
Rest assured, candidates who have purchased the Gleim CPA Review System within the last 18 months may qualify for the Gleim Replacement Guarantee. Please email Gleim at accountingteam(at)gleim(dot)com or call 800.874.5346 to see if you are eligible for complimentary product replacements.
Try the brand new 2014 edition of Gleim CPA Review for free here.
Good luck, CPA candidates!
Team Gleim