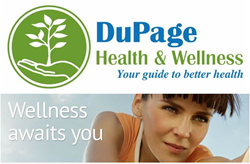 There is nothing more gratifying than hearing a patient who has struggled with health issues for years tell us that we changed his or her life.
Glen Ellyn, IL (PRWEB) June 02, 2014
DuPage Health and Wellness Center of Glen Ellyn, IL is now enrolling participants for its new wellness program, "30 Days to Health," which custom-tailors a healthy lifestyle for each individual patient based on his or her own specific needs. Clinic owner Jim Flaherty stresses that this is NOT a diet—rather, it is a lifestyle program geared towards improving health and quality of life. Unfortunately, due to unhealthy habits, many Americans are not in control of their own health and don't know what to do about it. "If you think wellness is expensive, try illness," Flaherty quips.
The "30 Days to Health" program involves undergoing regular chiropractic adjustments, maintaining proper nutrition, working with DuPage Health and Wellness's experts to attain fitness goals, and taking time for relaxation techniques such as regular massages.
Each participant's experience with the program is based on his or her own "Wellness Score," which can range from A to F. A client's Wellness Score is based on a variety of bio-markers, such as body mass index, cellular health, core strength and flexibility, posture, and neurospinal function index—to mention just a few. The healthcare professionals at DuPage Health and Wellness take all these factors into account, assign each patient a grade, and design a personalized wellness program to address any problems or potential issues. "We start first by designing a nutrition program that helps the patient feel better and then work on core strength and better long-term habits," explains Jim Flaherty.
Results can obviously vary depending on each client's initial starting point and his or her own needs. However, the program is designed to educate every patient and to develop new health and wellness-oriented habits that will bring benefits for years to come. Individuals who have tried the program already have glowing praise for it. Says one participant, "I and two other people have done the program because we wanted to make sure it would result in positive changes. I lost 18 pounds and 4 inches in my waist during the 30-day program. What I learned has allowed me to maintain a much healthier lifestyle."
About DuPage Health and Wellness Center
DuPage Health and Wellness Center in Glen Ellyn, IL has been caring for patients in the community since 1998, providing comprehensive healthcare that bridges the gap between conventional and alternative medicine. The Center specializes in testing and treatments for the endocrine, gastrointestinal and immune systems as well as metabolic and general nutritional issues. The practice also offers chiropractic care, massage therapy, spinal decompression, orthotics, acupuncture and nutritional counseling.
DuPage Health and Wellness Center
800 Roosevelt Road, Bldg E Ste. 220
Glen Ellyn, IL 60137
(630) 469-1527
http://dupagehealth.net
Follow DuPage Health and Wellness Center on Facebook.