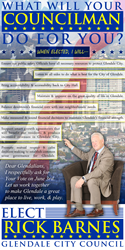 Glendale, CA (PRWEB) May 27, 2014
Rick Barnes is proud to announce the release of his informative infographic, within which he enumerates his goals for the City of Glendale as part of his campaign.
The infographic is a way for residents of Glendale, CA to get to know Rick and understand his viewpoints when they may otherwise not have the chance. There are no longer any Candidate Forums scheduled and apart from possibly a few city events until election day, there won't be many opportunities for residents to get to know their candidates, unless they seek out a meeting with them themselves.
Main Points of Infographic
There are several key points included on Rick Barnes' "What Will Your Councilman Do for You" infographic, all of which attempt to give an overall picture of the type of Councilman Rick Barnes will be, should voters elect him. While every point is important, one can be considered the basis of his campaign: "Bring accountability and transparency to City Hall."
City residents and businesses have a right to not just know what their City Council is doing but to have a say in those actions. The current Council has forgotten that they are in office to represent the interests of the city's residents, not special interests. This is something that must change if Glendale is to remain one of the best places to live in Southern California.
In the Home Stretch
Now, nearing the end of the campaign, it is more important than ever to ensure that everyone knows who their Council candidates are. Well-informed residents make well-informed decisions and that is what is the best for Glendale. For more information about Rick and his campaign, visit his website at http://rickbarnesforcitycouncil.com/. Contributions may also be made through the website.