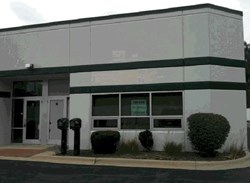 Glendale Heights, IL (PRWEB) September 19, 2013
Located on Bloomingdale Road, close to major expressways and transit stops, this industrial and retail space in Glendale Heights, Illinois is priced for a quick sale, and will make a wise investment for a businessperson looking for an efficiently designed business space in a lucrative location.
For investors looking for a smart buy on real estate, this is a natural first choice. A highly skilled and affordable property manager would be easy to find in the area. Rather than investing in residential real estate, insiders generally pursue properties like these for generating reliable income. A large number of bids is likely when this property goes up for auction at Micoley's event on September 28. Acting fast is recommended with this property, as the seller has voiced an interest in entertaining early offers.
Part of Auction Event #900, This 2,174 square foot commercial condominium could generate a positive net operating income within its first year of operation if the buyer operated his or her business in a shrewd manner. A few smart uses for this property are as follows:
Online retail for large items: With it's innovative drive-in door feature, it could be a great center of operations for an online retailer. Storage or even manufacturing could be carried out in the primary commercial space, and a full service shipping station could be set up near the drive-in door.
Car audio installation: A car audio installer could potentially run a small boutique business for premium clients out of the space.
Film and photography equipment rental: The drive-in door could set apart this location, since large orders could be loaded directly into vehicles.
There are endless possibilities for capitalization in this excellent commercial space. Built in 2005 as one of 7 units, this is unit "G." The 15 foot ceilings in unit G make it attractive to customers, and built-in fire sprinklers enhance safety and may help keep insurance costs down.
Safety in addition to convenience of its location near expressways, as well as spaciousness and aesthetically pleasing design make this an ideal workplace environment. Conducting business in this location will be a pleasure for one lucky buyer, or their tenant.
As always in real estate, it's highly recommended that the buyer visit the location in person. Explore the area and find out what it's like to do business there. Obtain extra information by registering online at http://www.micoley.com, or going online to use Micoley's chat feature. Potential buyers can also call and speak to a customer service representative who knows more about this property on the phone at 1-866-378-2382.
However, those who are interested in this property are advised to act fast, as the potential for early bids and offers is very high, and the September 24 auction date is fast approaching.
Green Bay, WI-based Micoley.com is a real estate marketing firm specializing in project focused auctions of bank-owned properties throughout the United States. The Micoley approach to real estate marketing tailors each auction plan to the client's individual needs. The site is constantly being updated for the benefit of buyers, as large scale auction events are held monthly, and new properties are added daily. Illinois broker Robert Stone #471.015845 & Firm License #481.011994.